Ex-Dutch hockey great Brinkman now a nervy spectator
Jan 25, 2023 12:37 AM IST
Jacques Brinkman, winner of two World Cups and Olympic golds with Netherlands, is cheering son Thierry, the Dutch skipper, at this FIH World Cup.
Though Netherlands were winning 14-0 against Chile, Jacques Brinkman was anxious, nervously tapping his foot. Despite having experienced the thrills and excitement of the game as a player for 13 years, the Dutch legend still gets a bit edgy while watching his team play at the World Cup, especially when his son is playing.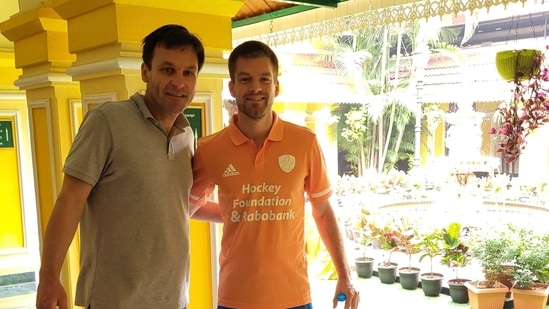 Thierry Brinkman is the skipper of the Dutch team, vying to win their first World Cup since 1998 when his father guided Netherlands to gold in Utrecht.
"Well, I am not really that nervous but of course the more we go closer to important matches like the quarter-finals, I will start getting a little bit nervous," laughed Jacques, who also won Olympic gold with Netherlands in 1996 and 2000.
"Earlier, I used to be an analyst for Dutch television and newspapers but when Thierry entered the Netherlands team, I stopped all of that. I am now only a player's father, a supporter of the team. I've been so for many years. I am really proud that he is the captain of the team. He is playing very well, he's scoring a lot of goals, providing a lot of assists. I am just so proud."
Jacques with his wife travelled to Rourkela to see Netherlands' matches against Malaysia and New Zealand before coming to Bhubaneswar for the final Pool C contest against Chile. The Oranje beat Chile 14-0, the biggest margin of victory in World Cup history.
Thierry has scored five goals, including a hat-trick against Chile, and provided multiple assists in this World Cup. He won silver with the Dutch at the 2018 World Cup here.
"We talk during tournaments but I don't speak about tactics or anything. I just say things like nice goal or good assist or ask him about how his hotel is, how he feels. Sometimes the Dutch hockey association organises sessions with parents and all the players where there is some nice chatter. Besides that, we don't go to the team hotel," says Jacques.
This is not the first time Jacques has come to India to see his son play. The two-time World Cup-winner in 1990 and 1998 came to New Delhi to watch Thierry play in the 2013 Junior World Cup. "That was the last time. We didn't come to Bhubaneswar during the 2018 World Cup," said Jacques.
Netherlands ended with a bronze in 2013 with Thierry scoring six goals. Asked if Thierry is under the spotlight and under pressure as the son of a Dutch legend, Jacques said: "He can handle the pressure. He is unperturbed. That is his strength."
Jacques though has come to India multiple times during his career spanning from 1987 to 2000. "My favourite Indian player was Dhanraj Pillay. He used to score a lot of beautiful goals. He was really brilliant. I also met Jagbir Singh in Rourkela, who is now a commentator. We met after 15 years. It was great. We talked about the old times," concluded Jacques.
Enjoy unlimited digital access with HT Premium
Subscribe Now to continue reading