For India, the most important thing is we hit the ground running: Graham Reid ahead of Hockey World Cup 2023
Jan 09, 2023 06:26 PM IST
Ahead of the World Cup, the 58-year-old India coach discusses the team's preparation, strengths and weaknesses.
Graham Reid has achieved exalted status in India, having guided the men's hockey team to their first Olympic medal (bronze) in 41 years. The question is: will he be able to do an encore at the World Cup that begins on Friday in Odisha?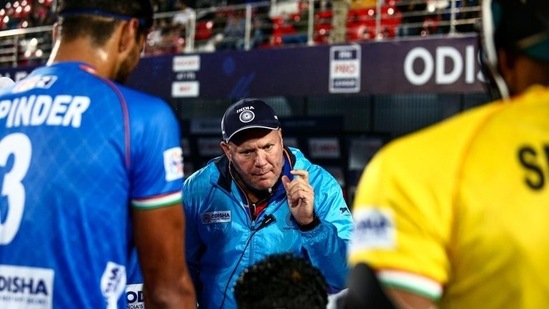 India have had varying results post the Tokyo Games under the chief coach: a bronze at the Asian Champions Trophy, third in Pro League, silver at Commonwealth Games and a 1-4 loss in the Australia series in November-December.
But the 58-year-old remains optimistic as ever while discussing India's chances at the upcoming World Cup. In an interview, he discusses the team's preparation, strengths and weaknesses, the new venue at Rourkela and the series loss Down Under among other topics. Excerpts:
You've been in Rourkela for a few days now. What is your impression of the new venue?
The junior Indian team played some test games (against South Korea juniors) here and were positive about it. They said the pitch is a little softer than the one we're used to in Bengaluru (SAI Centre where the national camp is usually held). We've been in Rourkela for a few days now, our guys are used to the pitch. The venue is actually beautiful. It seriously is. It is a wonderful setup. You look around and it is quite amazing; the stadium which is state-of-the-art, built beautifully, finished off well, having such a size of the stadium, 20,000 people... is quite incredible. The turf itself is flat which is great because sometimes you come along the occasional bounce. It is very nice to play on it. The boys are enjoying themselves immensely, playing and training hard.
A softer pitch? Will it affect play?
Once your legs get used to it, under the foot, I don't think it is such a major issue. It is just that every turf is different no matter where you come from. It is pretty similar to Bhubaneswar. We played there in October.
How is the mood in the camp? It's the first time India is playing a World Cup as Olympic medallists since Mumbai 1982.
It is great. We actually went out on to the turf, sat on it with everyone going through their own World Cup experiences. Quite a few of them have played in a World Cup. That was a nice moment for everyone, just to get their thoughts on the history of what they have been through. It was a great little bonding time for the group. The times are exciting. Each day it gets closer, you can feel the excitement building.
With England, Spain and Wales, India have been handed a tough group.
It's interesting that my wife reminded me when I was involved with the Australian team in 2010 and saying the same 12 years ago. I was discussing how we were going to get around these group games as it was such a tough pool. I don't think that changes whether it was 2010, 2014, 2018 or the Tokyo Olympics. Every international tournament like this is very difficult. Of course, our pool is really tough. You've got three teams and we have played almost all of them during these last 12 months with various results. For us, the most important thing is we hit the ground running. We will try to play at our best and that will be the key. If we are playing well then, we can get through without too many issues but for that we need to be playing well and that is the focus; to make sure we are in good touch.
India lost the recent Test series against Australia 1-4. What were your observations?
Look the objective was to try and desensitise ourselves a little bit but also get good preparation for the World Cup. The tour was very good from the point of view of learning. We learnt a lot about ourselves, we learnt a lot about Australia and also realised that if we play well, if we get a little bit more frugal at the back, then we can beat anybody on our day. So, we just need to make sure we have more days where we are on, ready to go and play well. It was interesting that we had Bram Lomans from the Netherlands in India a couple of weeks ago with the drag-flicking camp and he reminded me of the 1998 World Cup when the Netherlands won their last World Cup in Utrecht. Before that they went to Australia and lost 1-4. He said it was quite a good reminder... they lost to the Aussies but still ended up winning the World Cup. So, it's about what you learn from it (the losses).
What did the boys learn from Lomans and goalkeeping coach Dennis van de Pol in the recent camp?
The camp was really good. Dennis will actually be heading over for the World Cup so we will have access to a goalkeeping coach in Odisha which is great news. It just provides them with a little bit of stability and the basics is what Dennis brings very well to our keepers. Having someone like him was fantastic for the last couple of weeks. Bram as well, regarding our drag-flickers, gives them two or three things that they can focus on during this period. We are in the middle of the moment so that's been really good. Definitely worth it. The timing too worked well... just after we came back from Australia and before the World Cup.
What are the team's strengths and weaknesses?
Our understanding of the way we play is developing. It develops as you play on, developing different ways to beat teams, using different methods. We have developed a couple of different ways to press and are trying different things which we did during the Australia tour. I am hoping the time we have spent on corners will bear fruit during this tournament. A lot of the group has been together for a long period. We haven't had too many different players since our last outing so we are in pretty good shape.
"Exciting news! Hindustan Times is now on WhatsApp Channels
Subscribe today by clicking the link and stay updated with the latest news!"
Click here!