From partial paralysis to Indian team: Sukhjeet Singh's remarkable comeback story
Dec 11, 2022 11:23 PM IST
A pinched nerve seemed to have ended his dream but the 26-year-old fought back in the only way he knew how to
Sukhjeet Singh was ecstatic. Having never made the cut for the junior national hockey camp, let alone the team, the Punjab player had been selected for the senior national core probables in the summer of 2018. The elusive India jersey, it then seemed, was just around the corner.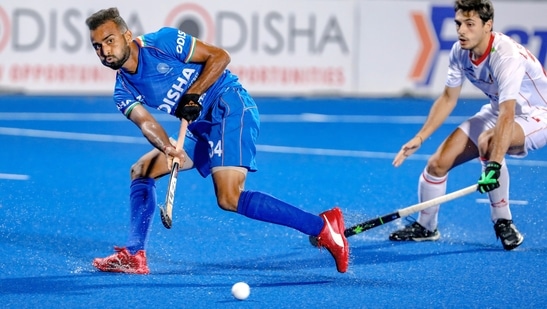 But then an accident pushed back his career not by months but years. During a physiotherapy and acupuncture session where needles were inserted around his glutes, a wrong nerve got pinched. "The needle probably went in too deep and pus filled up in the spot," said Sukhjeet.
Also Read | Australia hand India a 5-1 defeat
Though he felt pain in his right leg, the Jalandhar-born ignored it and continued to train and practice. But that turned out to be a disastrous decision.
"It started happening after 6-7 days. Initially I had fever after which the right leg started hurting a lot. The pain grew so much that I could not sleep, move my leg, get up from the bed or do any activity. It eventually paralysed my leg for five months. It completely stopped responding," said Sukhjeet.
Initially hospitalised, Sukhjeet, who turned 26 on December 5, returned home where his treatment continued. Doctors initially suggested surgery to remove the pus but later decided against it. "They said a heavy dose of injections will dry it up," said Sukhjeet, who is employed with Punjab National Bank (PNB).
After being almost immobile for the initial three months, Sukhjeet's leg started responding. It took him another three months to stand. What looked like end of the road initially, now there was hope for Sukhjeet and his family.
"Main ne haunsla nahi haara (I didn't lose hope). My doctor and physio helped me a lot. My family and friends motivated me all the time. What drove me was the idea of playing for India," said Sukhjeet.
PNB coach Romesh Pathania was also closely monitoring his ward, keeping in touch with the family about Sukhjeet's well-being. "Naturally, he was very depressed. Despite being in the national camp, he could not play at all. His time in the camp got completely wasted. He cried a lot. I told his parents to keep him motivated," said Pathania, who received the prestigious Dronacharya Award in 2020.
After months of pain and struggle, Sukhjeet slowly started to walk and consequently run. His first aim was to regain his strength. Six months of medication, injections and barely any movement meant that his body, especially legs, had become weak. To regain strength in his muscles, Sukhjeet restarted his fitness regimen.
"When he returned, I told him whatever happened is over. I told him it is not the end. The journey is only getting started. What sets Sukhjeet apart is his strong will power, hard work and discipline," said Pathania, four of whose wards – Sukhjeet, Abhishek, Mandeep Mor and Olympic medallist Shamsher Singh – are in the senior India set up.
"He started working on himself and all the things needed to play at the international level. Strength training, working out in the gym, swimming, weight training – he did all this with a single-minded focus because of which he could make a comeback," added the coach.
After his leg started responding normally, Sukhjeet worked on attaining the required fitness levels and made a sensational return to the turf in November 2019 when he guided PNB to the Nehru Senior Hockey Tournament title in New Delhi.
A solid run at the Inter-Departmental National Championship in Bengaluru in December 2021 guided PNB to a bronze medal finish which finally earned what Sukhjeet had been aiming and waiting for – a call back into the senior national camp in January this year.
Before long, Sukhjeet was selected to don the blue Indian jersey. From being bedridden and paralysed, Sukhjeet made a startling India debut in the Pro League match against Spain on February 27, scoring a goal on his maiden appearance.
"It was purely my drive of playing for India that made this journey possible. I also wanted to fulfil my father Ajit Singh's dream. He used to play national level hockey for Punjab Police but never made the cut for India. He always said, 'my son will fulfil what I could not achieve'," said Sukhjeet. "That was my extra motivation to get fit soonest and get selected. So, when I represented India, both me and my father were elated beyond measure."
Sukhjeet played in every game during the five-Test series against Australia in Adelaide. Now, he hopes to get selected for the World Cup in Odisha in January 2023. "It is every player's dream of representing the country at the World Cup at least once. I hope to do the same as well. I am working hard on the ground and I will try my best to grasp every opportunity that is given to me," Sukhjeet signed off.
Continue reading with HT Premium Subscription
Daily E Paper I Premium Articles I Brunch E Magazine I Daily Infographics