Harmanpreet: Defender, drag-flicker, skipper
Jan 12, 2023 09:09 PM IST
The 27-year-old will be India's trump card at the World Cup and the hosts will count on him to get the goals.
The sound of Harmanpreet Singh's potent drag-flick hammering the board of the goal in India's last practice session ahead of the World Cup opener against Spain here on Friday had a reassuring and very familiar thud to it.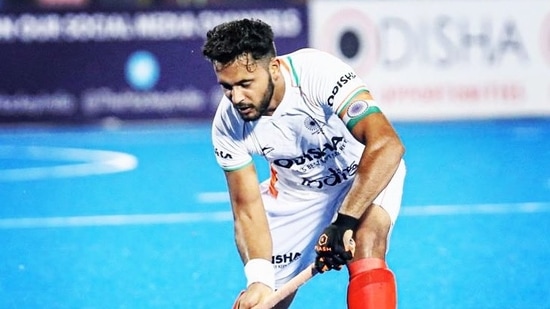 As Harmanpreet was training, other penalty corner (PC) specialists Amit Rohidas, Nilam Sanjeep Xess, Varun Kumar and Jugraj Singh joined in. But from the body language, instructions and quality of flicks it was clear who the No 1 PC specialist is in the Indian dressing room.
Let alone drag-flicking, Harmanpreet didn't even play or watch hockey till he was 12 – an age by when most hockey players are already at the gates of the sub-junior setup. With no hockey background in his family, the India skipper never got exposed to the game. But the defender was always interested in sports, playing football, volleyball and participating in multiple disciplines of athletic events at St. Soldier Elite Convent School in Jandiala Guru, his hometown in Punjab.
"My start in hockey was very surprising. Since I was athletic and always interested in sports, me and my friends decided to go to a local academy during vacations to pick up a certain sport. The only trainer we found there was a hockey coach who asked us to try it. That is how this beautiful journey in hockey started," said Harmanpreet, who turned 27 last week.
After gaining an interest and realising he can excel in the sport, Harmanpreet shifted base to Malwa Hockey Academy in Ludhiana from 2008 to 2010 before joining the famous Surjit Singh Academy in Jalandhar which has produced several India players.
Though initially he wanted to be a forward, the then teenaged Harmanpreet quickly settled into his role as a defender, impressing one and all with his skills. In his first-ever Junior Nationals, Harmanpreet was adjudged Player of the Tournament which catapulted him into the junior national setup. It only took him a few months before he made his junior India debut at the 2011 Sultan of Johor Cup in Malaysia, netting nine goals and thereby was adjudged Player of the Tournament.
Harmanpreet continued playing for the junior side during which he guided India to the 2014 Sultan of Johor Cup title where he was the top goal-scorer. A year later, Harmanpreet's 14 goals – highest of the tournament again – helped India win the Junior Asia Cup. Such impressive performances made the then India coach Paul van Ass call up the 19-year-old for his India debut in a four Test series against Japan in 2015.
Even though he had regularly started playing for the senior Indian team, Harmanpreet really came to the limelight when India won the 2016 Junior World Cup in Lucknow – his last event in the juniors, that also helped him cement his place in the senior team.
The drag-flick
After being part of the senior Indian team for close to eight years, Harmanpreet has evolved as the backbone of Indian defence. The 2016 Champions Trophy silver, 2017 Asia Cup gold, 2018 Asian Games bronze, 2018 Champions Trophy silver, 2018 Asian Champions Trophy gold, 2020 Olympic bronze – these medals wouldn't have come had it not been for Harmanpreet and Co halting the charge of opposition strikers.
But along with the defence, Harmanpreet has also nurtured his special talent of being a PC specialist. Though he would drag-flick once in a while in Ludhiana, the two-time FIH Player of the Year started learning the art properly at the Surjit Singh Academy.
"I used to watch my seniors practice the drag-flick. They only asked me to give it a try. That's when I started to learn. My seniors helped me a lot. Then during the Hockey India League (HIL) I used to watch other top players, learn from them and get motivation that I could also do it. I then started giving it a lot more attention," said Harmanpreet, who will be India's trump card at the World Cup.
From then to now, Harmanpreet has evolved as not just India's primary drag-flicker but as one of the best in the world, regularly being adjudged as the top-scorer or best player in tournaments. "He is one of the best at the moment. He is really good and powerful. No wonder he is leading India. He always ensures that he scores in the big tournaments," said the great Gonzalo Peillat, who was the top-scorer at both the 2014 World Cup and 2016 Rio Olympics.
But unlike the Tokyo Olympics where Harmanpreet had the support of the experienced Rupinder Pal Singh, who retired with the bronze, in Odisha the other PC specialists will have to pick up their level to match Harmanpreet. There is a visible gap between him and the other Indian flickers.
"Harmanpreet is very good and different from the others. The reason he is different is because he is very good at manipulating the goalkeeper and first runner," said legendary drag-flicker Bram Lomans, who won two Olympic gold medals with Netherlands in 1996 and 2000 and also the 1998 World Cup.
But Harmanpreet isn't worried and completely backed his team. "The mood, atmosphere is great in the team. If you look at the Pro League, we have performed quite well where we learnt a few things. We learnt that if we score, our first responsibility is to defend. If we haven't scored, then our job is not to concede," said the defender. "We have learnt a lot of good things. Most importantly our confidence is high."
Earlier, the 27-year-old had to balance the responsibilities of defending and as a PC specialist. But late last year Harmanpreet was also named as the skipper of the team. Is he burdened with three different roles?
"The situation in hockey is not the same every time. As a player you know what your responsibilities are without the ball. If you're a free man, then your communication should be good; you've to guide players from behind. And same with the ball; how to use our midfielders if they are overlapping, when to play long balls or overhead. From the start we've been doing the same things. So, we know our responsibilities," said the India captain, who has played 164 internationals.
"As captain, if a player is down or making mistakes it is natural to feel low. Then we have to make sure we keep our head down, that not just me but everyone stands with that player, that it is okay (to commit an error). Just focus on the next job rather than hold on to that thing. The team atmosphere is such that everyone pushes each other," he said.
When off the field, Harmanpreet is quite the family guy. Every time he returns to Jandiala Guru, the drag-flicker likes to spend time with his two-year-old nephew Harkamal and one-year-old dog, a Labrador named Simba.
"Simba and Harkamal are the naughtiest and noisiest in the house which is why it is fun spending time with them. I get less time at home but whatever time I get, I like to utilise it well," said Harmanpreet, who tied the knot last year. "I like to do the same things which I used to do earlier like driving to the hills with friends or family."