Hockey World Cup at home a great chance for India, says MM Somaya
Jan 11, 2023 11:06 PM IST
Member of the Moscow Olympics gold-winning side believes the current crop is a cohesive and confident lot after winning bronze at the 2021 Tokyo Games
For the current Indian hockey bunch of Olympic medal winners, the home World Cup this month might be the best shot at success in the showcase event, 1980 Moscow Olympics gold medallist MM Somaya said on Wednesday.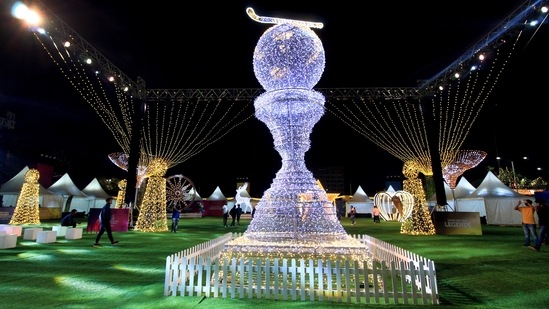 India haven't had much World Cup joy since winning it in 1975, crashing out in the quarter-finals of the last edition, also held at home. The Tokyo Olympics bronze in 2021 though has been a shot in the arm and has also raised expectations from the Harmanpreet Singh-led team for the tournament starting on Friday.
"It's a wonderful opportunity for us. After this batch finishes its term, we may not get a similar batch for a few more years. They'll carry a lot of confidence because of the Olympics," said Somaya, seated beside former internationals Edgar Mascarenhas and Adrian D'Souza in an event organised by the Sports Journalists Association of Mumbai.
"We're good medal contenders. Most teams are either rebuilding or have older players. Belgium, for example, has an ageing team. Other teams like Holland have a lot of young players. The only other team apart from us that has a blend of youth and experience is Australia."
Australia have been that bogey team for India for a while now, and remain so as the 7-0 thrashing in the Commonwealth Games final last year showed. India's recent tour Down Under for a test series was good exposure but Australia in big events is a different ball game. At CWG, India head coach Graham Reid had spoken about mental block being a factor. For Somaya, one of the solutions to the issue against the Aussies was tactical—not going full press in the first quarter, "not putting a gap between your first line of defence and your last, and giving them lesser space to play".
"Over the last 4-5 years we've been able to conquer the fear of playing the European style. But Australia, in the first 15 minutes, put so much pressure. They virtually push you off the ball. And every time they come into your circle, they're so sharp that within the first 10-15 minutes they go ahead by a couple of goals. It immediately pushes you back. You have to manage the initial aggression," said the former India captain, adding with a smile, "I hope we meet Australia only in the final".
Like Somaya at the 1982 World Cup in Mumbai, D'Souza knows the pressure of playing a World Cup at home, having been part of the 2010 edition in New Delhi. The former goalkeeper, however, believes the togetherness of this group from the days of the lockdown to the Tokyo Games medal will keep them in good stead to manage that in their quest to go all the way.
"There is going to be pressure, no doubt," he said. "The first two matches (against Spain and England) will be very important for India because that will set us up for the rest of the World Cup. And consistency will matter."