'India is starting to increase their belief and play their way'
Jan 17, 2023 11:02 PM IST
Ric Charlesworth on why the hosts need to trust their method to find consistent success at the highest level
Ric Charlesworth has seen hockey evolve in the last six decades. From a player to a legendary coach, the 70-year-old has been there done it all with several teams and is now currently an assistant to one of his own wards. The Australian is assisting Alyson Annan in coaching the Chinese women's hockey team.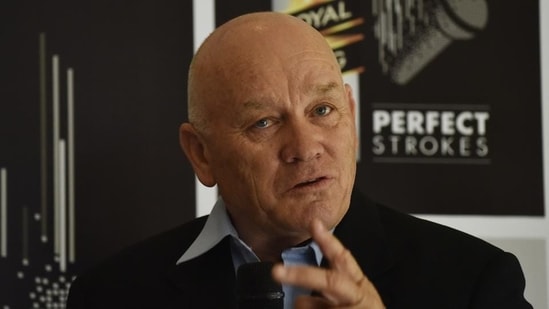 Currently, Charlesworth is in India as a commentator for Star Sports, the official broadcaster of the World Cup. In an interview, Charlesworth, who had a stint in India in guiding the team around 2008-09, discussed the ongoing World Cup, the changing scene in modern day hockey, India's success at the Olympics among other topics. Excerpts:
From Bhubaneswar 2018 to Odisha 2023, what differences are you seeing in play, in the teams?
It is still a little bit early to tell. Australia is still a little bit rusty. They haven't had enough competition (due to Covid). We saw the value of competition because even though Argentina won only one of their eight Pro League games, they are pretty hardened and organised. All teams look similar. There used to be a big difference between Asian teams and Europeans and Australia. It seems to me we have globalisation in hockey. Interestingly India is starting to increase their belief and play their way. They have introduced a lot of the things that were needed in terms of defending better. They still have very skillful players and if they trust in the way they play then they can challenge anybody.
What was your reaction when India won the bronze at Tokyo?
I wasn't surprised. I always thought it was possible. In the bronze medal match they had a bit of fortune but they kept scoring goals. If you can do that you can win any time. In the semi-final they were very competitive. When I was in India in 2008 working with the federation, I had said it is a 10-year project if you want to be on the podium. Many of the elements that were put in place over that period of time had a range of different coaches. You started with Jose Brasa, Michael Nobbs, Terry Walsh. India made steps. The Hockey India League was very important. It was like the IPL. They started to realise international players only have two arms and two legs and nothing special. That belief grew over the decade.
How are you looking at the World Cup?
There are six teams that can win here. Germany, Belgium, Holland, Australia, England and India. The quarter-finals will reveal where we are at.
What do you think of this crossover format? Would you prefer direct quarter-finals?
It is better and more inclusive. It gives you a top 12 rather than a top 8. Sometimes somebody will have an aberration, slip up in pool matches. I am not necessarily a fan of quarter-finals which I feel are created for upsets. I certainly would like to see change in those critical one-off matches where we should play extra time and then go to a shootout.
You've worked with India chief coach Graham Reid. What do you think of his stint with India?
He was my assistant for six years so I know him very well. We played together and I was a referee when he was an applicant for a job in India. He has done a good job. More than anything the Covid period was very difficult. He's been persistent and you're seeing the rewards of that. A bit of stability in coaching is something India hasn't had. He knows what's required and he's played and coached teams that are successful at this level.
Are India closing the gap to the best in the world?
I saw India play Belgium in Europe last year and there was nothing (between them). It is almost like India have had a thing with Australia more than anybody else. I coached Australia that won 8-0 in the New Delhi Commonwealth Games. But if you watch that game, it was 0-0 after 20 minutes and very competitive. What we saw in Australia was India scored goals but Australia were scoring too many. Here with a crowd, if India can get a start they will be hard to stop. Sometimes differences are not as great as scores indicate.
"Exciting news! Hindustan Times is now on WhatsApp Channels
Subscribe today by clicking the link and stay updated with the latest news!"
Click here!
Continue reading with HT Premium Subscription
Daily E Paper I Premium Articles I Brunch E Magazine I Daily Infographics