The van Ass family and their love for India
Jan 14, 2023 11:58 PM IST
The Indian culture and cuisine delights Seve, who plays for the Dutch team at the FIH Men's Hockey World Cup, while his father Paul was India men's hockey coach
Seve van Ass settled down into a chair and looked around the practice pitch of the Birsa Munda Hockey Stadium. "You know this is my eighth visit. I really like India," said the Dutch hockey player.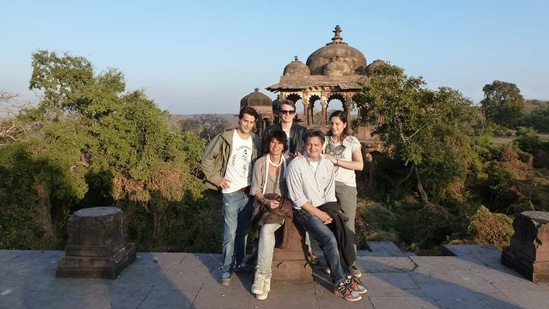 Not just Seve but his entire family has a deep India connect. His mother came to India as an 18-year-old and has been returning ever since. His father, Paul, was India's chief coach in 2015. Seve himself played in the now defunct Hockey India League (HIL) for Uttar Pradesh Wizards.
Also Read | Son of soil Rohidas revels in front of home crowd
"I have been to India once with my family as a tourist for three weeks and seven times as a hockey professional. That is a lot of times already," laughed Seve. "It is always amazing to come back to India. I like the Indian culture. It's way different than back home."
It was in 2013 that Seve's mother brought the family to India, to experience "the colour and vibe" as she had. The family spent three weeks travelling to New Delhi, Agra, Jaipur, Goa, Mumbai and Varanasi.
"It was during my initial years in the Dutch team. We had our winter break and my mother really wanted to share her experience of India with us. She did all the bookings. It was a while ago but it is still fresh in my mind," said Seve, who made his debut in 2011. He has 204 international caps and helped Netherlands beat Malaysia 4-0 in Pool C.
Of all the places he visited, Varanasi left the strongest impression on the 30-year-old. Seve was overwhelmed by the spiritualism he saw and felt in one of India's holiest cities.
"Old Delhi was really impressive, the Taj Mahal was really beautiful but for me Varanasi was an unbelievable experience because of the traditions, the whole learning of reincarnation, life, death and cremation and all the rituals around it on the banks of the Ganges," said Seve.
On other visits too, he tried to squeeze in such trips despite lack of time. "If you're here for hockey, you're either training or seeing a lot of the hotel. But on off days I always like to go out and see as much as possible but gets difficult," said the midfielder, who won silver at the 2014 and 2018 World Cups.
This time too before coming to Rourkela he took his teammates around Bhubaneswar where they are getting a suit tailored. "It was a great experience for us. We are not used to that kind of craftsmanship with the tailor picking a fabric and making a suit out of it. The guys were a bit hesitant at the start but eventually liked the experience. We will pick up the suits once we go back to Bhubaneswar. I really like the Indian suits (bandh gala) but not many occasions to wear it. It is probably going to hang in my closet," he said.
While Paul is busy as coach of the Dutch women's team, Seve's mother and brother will come to Bhubaneswar to see the Dutch play.
India has also had an impact on Seve's diet. He likes "naan, dal makhani and chicken curry". "I like to eat vegetarian food as much as possible; in Holland, it is doable but not as tasty... I don't know the names and recipes, but they are so tasty with so much flavour which you don't get in Holland."
"Exciting news! Hindustan Times is now on WhatsApp Channels
Subscribe today by clicking the link and stay updated with the latest news!"
Click here!