'Too small' for football, hockey a perfect fit for Dutchman Koen Bijen
Jan 25, 2023 09:20 PM IST
His progress to Eredivisie, the top Dutch football league, seemed unlikely due to his small stature. The forward then took the hockey route to shine in national colours
Koen Bijen has scored five goals in this World Cup so far, including an outstanding one against Chile last week. But not long ago, the Dutch striker was scoring goals using his feet rather than a hockey stick.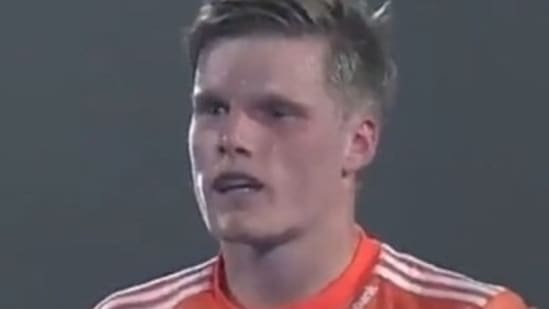 Bijen, 24, was playing for the Excelsior Rotterdam football team in the youth Eredivisie, the junior ranks of the top professional club competition in the Netherlands. Having spent his childhood and teenage years in football, the sport became his first love.
Bijen even had offers to join Ajax, Feyenoord, ADO Den Haag and Sparta Rotterdam, but a diehard loyalist, he stayed put at Excelsior.
But as he reached his late teens, Bijen's coaches asked him to give up the game.
"I was too small or short compared to the other players. They said I was physically not good enough. I quit football as I wasn't selected for a tournament, citing my short stature," said Bijen. "After that, I started playing tennis, my second favourite sport. Like football, I also played tennis at the highest level (in juniors)."
But he soon stopped tennis too and instead took up hockey, which is a major sport with a rich history in the Netherlands. The forward was immediately influential as he joined HGC – a club in the top division of league hockey in the Netherlands. In 2017, he joined Klein Zwitserland before moving to Den Bosch in 2020.
"I combined the skills learned in football and tennis, for example the footwork, and started using those things in hockey and it worked," said Bijen. "I like individual sports, but I like team sports more. Now I am a full-time professional hockey player though I do play a bit of tennis in the summer or during vacation, but not in any competition. For me, tennis and football are in the past."
Bijen made his debut for the junior Netherlands team in June 2019, playing in it for the next two years. A pure striker, Bijen was noticed by Dutch coaches for his knack of scoring goals. Netherlands head coach Joroen Delmee finally gave Bijen his senior debut in November 2021 against neighbours Belgium. He played Tests against many teams and the Pro League in 2022 before finally getting selected for the World Cup.
"When I started playing hockey, I realised I had a bit of talent for it. I was not like a typical hockey player who gives good balls (passes) and has tricks up his sleeve but I was a guy who could defend well and also score goals in the striking circle. It was a dream come true when I was selected to play for the national team. It is amazing to play events like the World Cup, representing my country," said Bijen, who has played only 22 internationals so far, scoring 11 goals.
In his first World Cup as well as India visit, Bijen is keen to take Netherlands deep into the tournament. "India has been amazing. We were one week in Rourkela where we played in this amazing new stadium. Now in Bhubaneswar. From the facilities to the crowd, it has been a really good experience," he said.
Bijen still follows his favourite football club – Barcelona – religiously. "I love Barca. When I was younger, I supported Ajax. But I don't like the Dutch league anymore. They used to have big players like Luis Suarez and Zlatan Ibrahimovic. But now I only support Barcelona because I am a really big (Lionel) Messi fan. It is sad he left for Paris St Germain. I hope he comes back, maybe in a different role."
Netherlands beat Korea 5-1 in the quarterfinals on Wednesday. They will play Belgium in the semi-finals.
Enjoy unlimited digital access with HT Premium
Subscribe Now to continue reading