World Cup: Poor finishing proves costly for India
Jan 22, 2023 11:56 PM IST
India's inability to convert chances in regulation time allowed New Zealand to come back and eventually win the crossover game in sudden-death
Akashdeep Singh was holding his head. Manpreet Singh was looking at the turf with despondency. PR Sreejesh was staring in disbelief as the New Zealanders rushed to goalkeeper Leon Hayward after Shamsher Singh missed his penalty to celebrate an unlikely quarter-final entry at the World Cup on Sunday.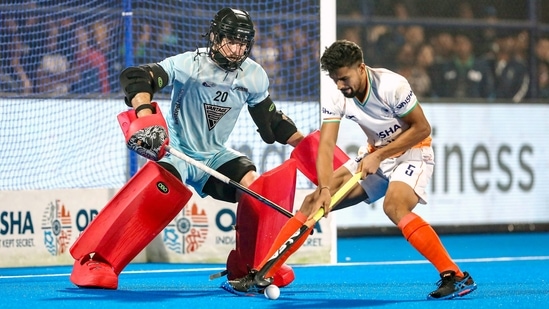 Here was a team, ranked No 12 in the world with players who do regular jobs to earn their living and only get together for camps a few times a year edging out an outfit that won a bronze medal at the most recent Olympics, has a fully funded programme with most players employed in Public Sector Undertakings (PSUs), attending full-fledged camps around the year.
India's 3-3 (4-5) loss to New Zealand was nothing short of a disaster after all the buildup, hype and momentum the team had picked post Tokyo where they reached the Olympic rostrum. The hosts twice had a two-goal lead but the midfield wilted under pressure as New Zealand scored twice in six minutes to draw level and force the shootout.
The Black Sticks were 3-2 ahead in the shootout before goalkeeper PR Sreejesh saved three successive Kiwi attempts to push the contest into sudden death. But Sreejesh got injured in the process, which brought Krishan Bahadur Pathak in.
New Zealand were tactful, replacing Dominic Dixon, who had stood between the posts throughout the 60 minutes, with the fresh legs of Leon Hayward. The trick worked as Hayward saved five out of India's nine attempts (penalty shootout and sudden death) to take New Zealand to the quarter-finals, where they will face holders Belgium on Tuesday. India will head back to Rourkela to play 9-16 classification playoffs, facing Japan on Thursday.
Lalit Kumar Upadhyay (18th), Sukhjeet Singh (25th) and Varun Kumar (41st) were the scorers for India in regulation time with Sam Lane (29th), Kane Russell (44th) and Sean Findlay (50th) scoring for New Zealand.
Ahead 3-1 in the 41st minute, the Indian midfield and defence became complacent, wilting under pressure from the New Zealand forwards led by the experienced Simon Child, who created multiple circle entries.
Out of the 11 penalty corner chances India got, Harmanpreet and company only converted two while New Zealand converted both chances they got.
"It has been some time since I became skipper. I don't think it was about pressure. I know all are talking about it (me not scoring enough) but I am trying. When you go out on the field, you don't think you won't score or there is pressure. You go in thinking you will score. We will try to find out what went wrong," said a teary-eyed Harmanpreet, who scored only one goal in the four matches India played.
"Even in sudden death, the mindset was to score goals but their goalkeeper did very well to save the attempts. We should have finished it within regulation time. We will try to learn from our mistakes."
India were dominant in the first quarter in terms of territory and possession but in terms of chances, the teams were level. New Zealand were the first to get a good shot on target but Sreejesh was quick to step out, make himself big and save.
In the third quarter, both teams traded a goal each with India scoring first through a penalty corner that went in through the legs of Dixon. New Zealand pulled back to within one again with Kane Russell beating Sreejesh from a penalty corner of his own, setting up an incredible final quarter of action.
India retreated into the defence to begin the fourth quarter while New Zealand turned on the heat. India conceded a penalty corner in the 50th minute, and while Russell did not make the contact he wanted from his attempted flick, the follow up shot by Lane was brilliantly turned in by Findlay with back to the goal.
India had a golden chance to score their fourth goal when Nick Ross was handed a five-minute yellow card suspension in the final seven minutes, but the 10-man New Zealand not just managed to hold India but made several circle entries as it took the attack to India.
The shootout was a nervous affair with 18 attempts in all required to separate the two sides. Both New Zealand and India had two attempts where a goal would've won the game but Sam Hiha and Sam Lane missed for New Zealand and Harmanpreet and Sukhjeet missed possible match winning attempts for India.
On the 17th attempt, Lane gave New Zealand the lead and Shamsher, who had missed once earlier, saw his attempt well saved by Hayward, ending the contest.
"I am sure pressure and expectations all come into mix. We made mistakes which we don't normally do. We need to analyse and talk about and come up with solutions before our next game," said Reid. "Tonight was about consistency. We let ourselves down in the last quarter, threw the ball away which makes it difficult. Every team will have issues with converting circle penetrations. We probably have to go back to the drawing board. Skill execution... we need to get better at."
Spain beat Malaysia in the other crossover match to advance to the quarter-finals. Spain won 2-2 (4-3) via sudden death after the scores were tied 3-3 in the penalty shootout. World No 8 Spain will face world No 1 Australia in the quarter-finals on Tuesday.