Attack-minded Manika Batra first Indian woman to win Asian Cup TT medal
Updated on Nov 20, 2022 12:19 AM IST
Shaking off her poor form earlier in the year, she bounced back after a semi-final defeat to win the bronze medal playoff in the tournament held in Bangkok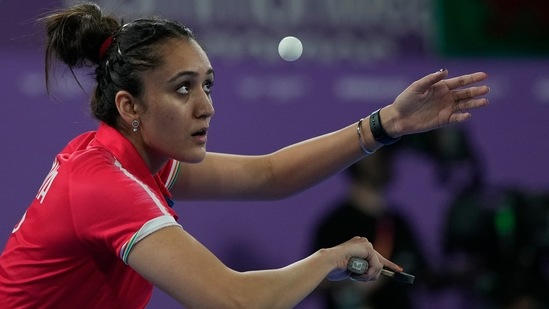 Manika Batra had a pretty uncluttered approach going into her first match against China's world No 7 Chen Xingtong at the Asian Cup in Bangkok.
"Chinese players ko aap (ball) daal ke toh nahi jeet sakte ho (you can't win against a Chinese player by just getting the ball back in play)," Manika said. "So, I had to attack."
Attack she did. Armed with that clear mindset and a crisp forehand, Manika swept past Chen, Chinese Taipei's Chen Szu-Yu and, on Saturday, Japanese world No 6 Hina Hayata 4-2 for a remarkable bronze from the prestigious individual event contested between Asia's top 16.
The 44th-ranked Manika also put up a spirited fight against Japanese world No 5 and Tokyo Games bronze medallist Mima Ito in a 2-4 (8-11, 11-7, 7-11, 6-11, 11-8, 7-11) semi-final defeat earlier on Saturday. She quickly regrouped to dismantle Hayata 11-6, 6-11, 11-7, 12-10, 4-11, 11-2, becoming the first Indian woman to medal at the event.
"This is a really important medal. My most memorable tournament, I would say," Manika said from the Thai capital. "Playing against these top players is a challenge in itself, and defeating them is special. It was my best performance."
The kind that hadn't been on display for a while now. More glaringly so at the key events this year—Commonwealth Games (CWG) and World Team Table Tennis Championships. The 2022 CWG especially, where she went from four medals in 2018 to none, upset her. Yet, instead of sulking for too long she swung back into training.
More than anything on the table though, it was something within her where Manika felt the biggest change from a few months ago.
"Especially after the CWG, I learnt a lot of things, on and off the table. I worked a lot on things, especially my mind. I'm being a lot calm now. In this tournament, I was enjoying my game again, enjoying every point that I was playing. That was most important," Manika said.
A free mind also helped free up her game. Those lethal flat forehands showed up again at the Asian Cup, pulling down the might of two top-10 players and the 23rd-ranked Chen against whom Manika had collected just 19 points in the team worlds last month.
It wasn't, however, an overnight transformation, or simply a case of activating the attack mode. Manika tried to fix the pieces through the season, only for them to keep falling apart.
"I was attacking a lot more in this tournament. I've been working on that and many other aspects for some time now. Woh bahut saare tournaments mein aa nahi raha tha pehle (it wasn't happening in the tournaments before). Here, everything came together.
"The two standouts have been my fighting spirit and the attacking game I played here. That confidence in me is coming back again. I'm really happy about that. Of course, it's still work in progress, but I'm happy it is in the right direction," she said.
Her grit and grace shone the fighting displays on Saturday. In the second game of the semi-final against Ito, Manika erased a 5-2 deficit, stitched seven points on the bounce and sealed the game with a backhand winner, twiddling the racquet in her trademark style. Up 2-1 in the match against southpaw Hayata, Manika saved four game points to seize the slipping fourth game and swell her lead.
"What I really liked about me here was that I was really calm on every point, fighting for each and every ball—whether it's at 3-2, 3-3 or 9-9. That pleased me a lot; it's something I've leant from this tournament and want to continue going forward," she said.
Looking back, though, did she actually believe she could script this unlikely tale in the presence of these Asian stalwarts?
"I had the belief. But there was no real thought in my mind that I will beat these players and go on to win a bronze medal. My only thinking was that I have to play my best game and execute what I've worked on here. I did that, and I won the bronze!" Manika said, smiling.
This story has been published from a wire agency feed without modifications to the text.
Topics