Hobbled Djokovic still too good for Dimitrov
Jan 21, 2023 09:48 PM IST
Bulgaria's Grigor Dimitrov is brushed aside in straight sets as the Serb, chasing a 10th Australian Open title, reaches the fourth round
Two set points come and go before Novak Djokovic's entire weight falls on his strapped left thigh going for a return of serve in the ninth game. Moments later, Grigor Dimitrov's crosscourt forehand out wide, a ball the Serb would waltz to in his sleep, turns into a winner. A groan and grimace accompany each of his low stretched backhand efforts as Djokovic is unable to serve out for the set at 5-4. He then stops going for balls altogether as the Bulgarian holds to love.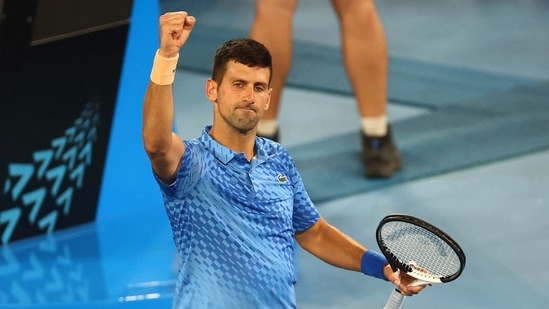 A tiebreaker beckons where Djokovic digs into his reserves while Dimitrov commits one error too many. Set points are traded again. A 23-shot rally sets up another one for Djokovic, who ends the 77-minute opening set with a crisp volley at the net after an 18-shot rally. Djokovic, in visible discomfort, immediately slumps to the ground.
Also Read | Crouching 'tiger' Aryna Sabalenka on the prowl at Australian Open
The nine-time Australian Open champion was down, but not quite done.
Yet, this was the second straight match in which Djokovic's left hamstring issue had a telling impact on his court movement at key junctures. Although Djokovic was able to get out of his third-round Dimitrov duel 7-6(7), 6-3, 6-4 with the help of a couple visits from the trainer, his quest for Grand Slam No 22 appears more challenging than it did coming into his happy Slam with the Adelaide title.
That's where his hamstring trouble began and has rolled on to Melbourne, where he has stayed away from his routine pre-match day practice to guard it. The hamstring flared up during his second-round win against Enzo Couacaud, where he dropped the second set and went off court towards the end to attend to it. The 34-year-old felt he had "reason to be worried" after that match. On Saturday, he said he was "up and down" physically.
"It (hamstring) kind of always starts well in the last few matches, including this one, and then some movement happens and then it gets worse," Djokovic said in his post-match press conference.
"Pills kick in, some hot cream and stuff. That works for a little bit, then it doesn't, then works again. It's really a rollercoaster, honestly."
The first set indeed was before Djokovic summoned the trainer on court, which seemed to calm his pain as well as the proceedings. Djokovic began moving a lot better in the second set, but Dimitrov was unable to raise his level. Earning the break in the sixth game after a lengthy backhand exchange, Djokovic got the job done to love while serving for the set this time.
It helped the Serb that the Bulgarian was disintegrating, a flurry of errors—he had 50 in all —twice breaking the Dimitrov serve early in the third set. It lasted longer than Djokovic would have liked, with the hamstring hampering him again and Dimitrov getting one of the breaks back. But after winning a 31-shot rally to set up match points, an almost out-of-breath Djokovic infused life into his body language, and with it in the crowd.
The question though is how far can Djokovic, operating way below his usual physical level, motor along in the company of a dodgy hamstring. Neither Dimitrov nor Couacaud could fully trouble even a partially-fit Djokovic but as the draw narrows, it could press further demanding questions especially if the hamstring continues to restrict him mid-match.
Alex de Minaur, the swift-moving 23-year-old Aussie, is up next for Djokovic before a potential quarter-final against No 5 seed Andrey Rublev or No 9 seed Holger Rune, both dangerous players.
"It is what it is," Djokovic said. "It's kind of a circumstance that you have to accept. I'm just grateful that I'm actually able to play. The way it looked just before the tournament started, I thought that it won't be possible. I'm still here and still holding on."