Rohan Bopanna and I want to be a top team, win Slams: Matthew Ebden
Updated on Nov 27, 2022 06:43 PM IST
The Australian doubles specialist will team up with Rohan Bopanna for the 2023 season and is confident they can be among the best pairs in tennis.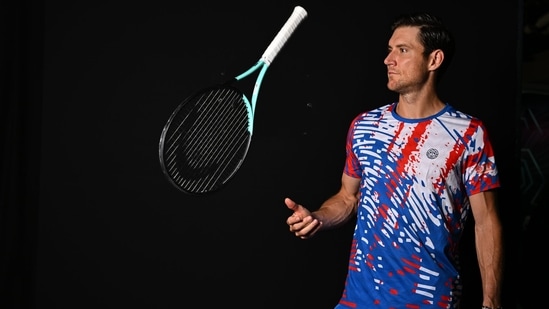 Matthew Ebden, the 2022 Wimbledon doubles champion, has a nice Indian connect. The Australian was Leander Paes's doubles partner for two tournaments at home in the Indian's One Last Roar run before the pandemic curtailed it. He has also played with Divij Sharan and Yuki Bhambri on the tour. That bond will get stronger when Ebden, 35, pairs up with world No 19 Rohan Bopanna next season.
The world No 26, who also reached a career-high singles world ranking of No 39 in 2018, will be in India next month to play in the Tennis Premier League. In a chat, the 34-year-old talks about his "crazy" Wimbledon triumph with Max Purcell, changes in the modern doubles game and his hopes of a "great season" with Bopanna.
Can something like the Tennis Premier League help Indian tennis grow?
My passion for India, Indian people, friends and players, has only grown in the last 3-4 years. I've played with a lot of the Indian guys, and next season I'll be teaming up with Rohan.
It was natural for me when the opportunity came up to want to be involved (with TPL). Team events have shown in recent years that when there's home countries playing as well as international world-class players, people have really got behind the team format. Look at Davis Cup, Laver Cup, ATP Cup, United Cup now. This league is a great chance for India to add to that and grow with that. It's a great way for the Indian players to be involved. It gives a lot of players the opportunity and exposure to a high level of tennis, and hopefully it will bring many fans as well.
How do you look at Rohan going strong at 42?
He's doing an amazing job, at his age especially. He's a big, tall guy with a big serve, and that doesn't seem to be affected with age. He's still strong and serving big; probably one of the best serves going around on the doubles tour. We plan to play the season together. We want to be one of the top teams, try and win Grand Slams, ATP Masters, be there at the Tour Finals, be among the top eight teams. He's had a great last six months, finishing in the top-20 (world No 19). I'm not too far behind (No 26). We've both had great seasons, and there's no reason why we cannot have a great season together next year.
This was your best season—winning the Wimbledon men's doubles, reaching the mixed doubles final, Australian Open men's doubles final. You reached a career-high singles rank of 39 in 2018. What made you shift focus on doubles?
I had a foot injury after that. So, I got a bit stuck with the singles rankings with that injury and Covid. In the last couple of years doubles has taken over a bit and I've had less time to play singles. My game has always naturally lent itself well into doubles. I've won titles early on in my career—Australian Open mixed doubles 10 years ago (2013). I can play all court, serve and volley, come to the net a lot, return well. I figured that at some point I would have a second part of my career transitioning into doubles, which has happened in the last year or two. It's been a nice, quick transition into the high end of doubles. The goal was to be No 1 and win Slams, and I'm happy I've started with the latter already. I want to keep pushing on and be one of the best, if not the best, doubles player in the world.
You and Purcell won Wimbledon in a fifth-set tiebreaker after playing four five-set matches in the previous five rounds. Must have been special to win it in the end...
Amazing. It's definitely the Slam we all want to win. To go through that fortnight of many five-setters, many adversities, save a few match points along the way. I was in the mixed doubles final as well, so I played like 41 sets in 10 days. A crazy amount! So, to end up flat on our backs after that match point, it's stuff you don't even dream of. Some people say they dreamed of winning Wimbledon. I didn't even dream of that. Of course, I believed we could win, but when it actually happens, you can't put it into words. It feels like something out of a fairy tale. It was an incredible and strange feeling.
Felt strange to not win points for the title?
Yes, but we knew going into it. At the French Open when they'd said there'll be no points, I joked with Max, 'I bet this will be the year we win Wimbledon'. It ended up happening, so that was quite funny. But we said if we have to give up points to win Wimbledon, so be it. We'll take it.
Four different doubles pairs have won the Slams this year with Nick Kyrgios and Thanasi Kokkinakis going on an unexpected title run in Australia. You have said the Woodies (Mark Woodforde and Todd Woodbridge), Bryan brothers, Williams (Venus and Serena) sisters dominate the doubles scene. Is doubles more open and unpredictable now?
A little bit. I mean, you've still got your top 3-5 teams and I consider us one of them. If you look at the last five Grand Slams, we've won or been close to winning them except the French Open. The level is pretty high, and generally I feel with the courts getting a bit slower, a lot of more singles players are doing well in doubles by serving and staying back, because the courts and the balls are slow and it lends itself to it. But there are still a few courts fast enough for the guys to serve and volley successfully. It's quite a mix, which is becoming interesting in the doubles game.
This Republic Day, unlock premium articles at 74% discount
Enjoy Unlimited Digital Access with HT Premium
Topics