Rail minister announces India's first hydrogen train; Know the technology
Feb 04, 2023 09:50 AM IST
Hydrogen-powered train uses hydrogen fuel cells to produce electricity by converting hydrogen and oxygen, which is then used to power the train's motors.
Railways Minister Ashwini Vaishnaw on Wednesday announced that India will have its first hydrogen train designed and manufactured locally by December 2023 on the Kalka-Shimla historic circuit. Although hydrogen-powered train technology is still in its infancy with only a few countries using it on a limited basis, India's early adoption is regarded as a significant step toward green initiatives.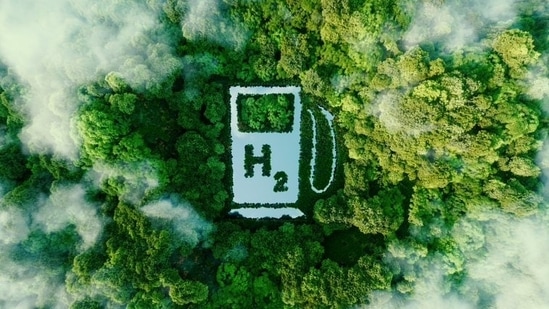 The upcoming hydrogen-powered trains will be known as Vande Metro. It will initially run on historic, narrow-gauge routes including the Darjeeling Himalayan Railway, the Nilgiri Mountain Railway, the Kalka Shimla Railwa y, the Matheran Hill Railway, the Kangra Valley, the Bilmora Waghai, and the Marwar-Devgarh Madriya, which will make travel more environmentally friendly.
ALSO READ: India's AI focus on problem solving for agriculture, health and smart cities
What are hydrogen trains?
Hydrogen trains are those that use hydrogen fuel cells rather than traditional diesel engines. The hydrogen fuel cells produce electricity by converting hydrogen and oxygen, which is then used to power the train's motors.
ALSO READ: 'Better than airplanes': Railway Minister terms Vande Bharat 'outstanding' train
The fact that hydrogen trains do not emit harmful pollutants such as carbon dioxide, nitrogen oxides, or particulate matter makes them a more environmentally friendly option than traditional diesel trains. Another benefit is that hydrogen can be produced using renewable energy sources such as wind, solar, or hydro power, making the fuel supply for these trains clean and renewable.
ALSO READ: Green hydrogen mission: A boost for clean energy
Limitations to tackle before utilizing full potential
The high cost of hydrogen trains is a major impediment to their widespread use. Green hydrogen (hydrogen produced using renewable energy) costs about INR 492/kg in India, according to the research and ratings agency ICRA. As a result, the operating cost of a fuel cell-based hydrogen engine will be 27% higher than that of a diesel engine, a report from ET EnergyWorld say.
There will also be the added cost of fuel cells and storage. Safety issues should also be well considered before adapting the technology on mass usage.