The BJP dismissed Sanjay Singh's allegations, claiming that they were made from "sheer frustration".

Updated on Apr 12, 2023 11:46 PM IST
The now-scrapped excise policy was implemented in November, 17, 2021 when Anil Baijal was LG of Delhi.

Published on Feb 28, 2023 10:20 AM IST
The incumbent Delhi LG VK Saxena has recommended a CBI probe into alleges lapses in the implementation of the policy's provisions and suspended 11 excise department officials, including former excise commissioner, and incumbent deputy commissioner Anand Tiwari.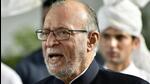 Updated on Aug 10, 2022 03:04 AM IST
During the implementation of the new Delhi excise policy, on several occasions, I had flagged the unlawful decisions taken by the AAP government which had to be amended on files. These facts are now in the public domain.


Updated on Aug 09, 2022 05:54 PM IST
The senior AAP leader, who is also Delhi's excise and finance minister, said he has written to the Central Bureau of Investigation (CBI) to probe the matter.


Updated on Aug 07, 2022 04:45 AM IST