Latest from bhupen khakhar
Of the 61 lots on the block, including an FN Souza, a Bhupen Khakhar and a rare Husain, about 20% were left unsold.

Updated on Nov 18, 2019 07:48 PM IST
Hindustan Times |
By
Dipanjan Sinha & Cherylann Mollan
, Mumbai
The Evening Sale features rare works by V S Gaitonde, K H Ara and Ram Kumar, as well as a previously unseen, significant painting by Bhupen Khakhar.

Updated on Sep 06, 2019 05:32 PM IST
New Delhi |
By
Press Trust of India
Khakhar, who was gay, first unveiled Two Men in Benares in Mumbai in 1986.

Published on Jun 12, 2019 12:54 AM IST
Hindustan Times, New Delhi |
By
HT Correspondent
An exhibition at DAG, Mumbai, explores how the master artists' time in the US impacted their work, and the representation of Indian art abroad.

Published on Nov 29, 2018 06:20 PM IST
The collection of 149 art works, on display at the Swaraj Archives in Noida, stands testimony to the process of the famed artist's spectacular trajectory.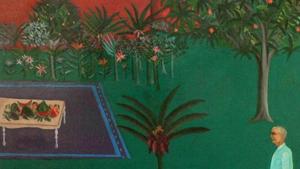 Updated on Apr 04, 2018 03:03 PM IST