Union minister of state for education and external affairs Dr RK Ranjan, Manipur education minister Th. Basantakumar Singh and director of IIIT, Manipur Prof Krishnan Baskar were also present in the event.

Published on Feb 21, 2023 02:59 PM IST
This is his maiden visit to Delhi after taking oath as the Chief Minister of Manipur for the second term.


Published on Apr 18, 2022 09:08 AM IST
Manipur chief minister N Biren Singh along with five other ministers was sworn in during a colourful swearing in ceremony at the lawns of Raj Bhawan in Imphal on March 21, after he was elected as leader of the legislature party of the BJP on March 20.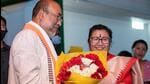 Updated on Mar 27, 2022 02:27 AM IST
The fight for the top post in Manipur finally ended with Biren Singh on top. A hundred endangered vultures and an eagle were killed after they consumed meat, and Zelensky tea in Assam


Published on Mar 23, 2022 05:19 PM IST
The oath of office was administered by Manipur governor La Ganesan at Raj Bhavan in the state capital.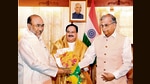 Updated on Mar 22, 2022 01:51 AM IST
By
Sobhapati Samom
, Imphal