The six MLAs in Rajasthan who won on Bahujan Samaj Party tickets but walked over to the ruling Congress must now vote for the independent candidate, according to the party whip.


Published on Jun 05, 2022 12:31 AM IST
Rajbhar, whose party won six seats in the elections, also accused the Congress of helping the BJP.


Published on Mar 16, 2022 01:27 PM IST
With 87,887 votes in his kitty, Uma Shankar Singh defeated SP ally Suheldev Bharatiya Samaj Party's Mahendra, and BJP's Babban from Rasara constituency.


Updated on Mar 11, 2022 09:50 PM IST
Written by Sharangee Dutta | Edited by Aryan Prakash
, New Delhi
Uttar Pradesh assembly election 2022: Speaking in Agra, the BSP chief slammed the media for spreading 'propaganda' that she has gone 'missing' this election season.


Published on Feb 02, 2022 03:21 PM IST
The BSP, with assets of ₹698.33 crore, is a distant second, followed by the Congress with ₹588.16 crore.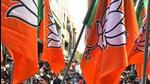 Updated on Jan 29, 2022 07:17 AM IST