Covid-19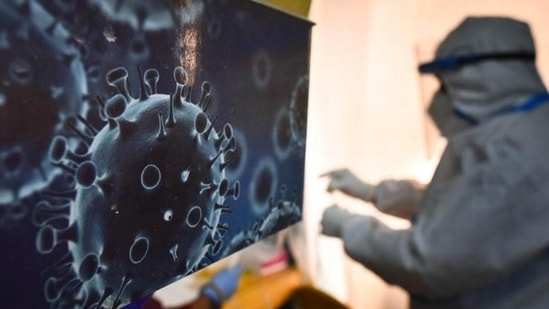 The COVID-19 pandemic, caused by the coronavirus SARS-CoV-2, began in late 2019 in Wuhan, China. The first case of the virus was identified in December 2019 and was linked to a seafood market in Wuhan. Since then, the COVID-19 has been impacting lives without any end in sight. India also faced multiple waves and lost over 5 lakh lives so far, around 7 million deaths have been recorded globally. So far there have been several variants of the virus -- B.1.1.7, B.1.351, P.1, Delta, B.1.617.2, BA.5. Omicron BF.7 strain is driving the current wave of Covid infections in China. As of now, India reported four cases of the Omicron sub-variant BF.7 which is a sub-lineage of the previous Omicron variant BA.5 and has one of the highest transmissibility amongst all COVID variants so far.
The new Omicron variant is expected to infect 60 per cent of people in China in the coming three months. Symptoms of COVID-19 can range from mild to severe, and can include fever, cough, difficulty breathing, and body aches. The virus is primarily transmitted through respiratory droplets produced when an infected person speaks, coughs, or sneezes. To reduce the spread of COVID-19, many countries have implemented measures such as lockdowns, travel restrictions, mask mandates, and social distancing guidelines. Vaccines have been developed and are being distributed globally, but it is important to continue following public health guidelines and getting vaccinated to help bring the pandemic under control.
Cases yesterday - 226, Deaths yesterday - 1, Total deaths - 5,30,693, Total cases - 4,46,77,106 (Source - https://www.mygov.in/covid-19)
...read more
OECD said it had seen some of the steepest drops in performance since 2000 when it began its triennial tests of 15-year-olds reading, maths and science skills.

Published on Dec 06, 2023 10:25 AM IST
MNF, which had bagged 26 of the total 40 seats in the state in 2018, managed to secure just 10 seats this time

Updated on Dec 04, 2023 07:11 PM IST
A new study shows that being overweight can affect the immune response of the body against Covid-19 infection. Read details inside.

Published on Dec 04, 2023 02:05 PM IST
PTI | | Posted by Krishna Priya Pallavi
, New Delhi
Ready for weekend baking magic? Dive into the perfect Saturday with this special recipe of drool-worthy Honey-Kissed Chocolate Chip Banana Bread

Published on Dec 01, 2023 09:33 PM IST
By
Zarafshan Shiraz
, New Delhi
Armed only with snouts and natural disregard for rules of composition, a pack of strays are hard at work on their canvases, redefining essence of abstract art.

Published on Nov 28, 2023 02:01 PM IST
AFP | | Posted by Krishna Priya Pallavi