"Telangana was formed after the BJP struggled for it and the youth of the state made sacrifices, but in the last eight years, the TRS government completely dashed the expectations of the people,'' Union minister Piyush Goyal said.
The two-day national executive meeting of the Bharatiya Janata Party was disappointing, as it had highlighted nothing for the development of Telangana, the ruling Telangana Rashtra Samithi said.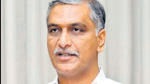 The BJP has been criticised by opponents for fostering sectarian politics. The comments of the party's former spokesperson Nupur Sharma against Prophet Mohammed snowballed into a major controversy and a clutch of counties registered their protest.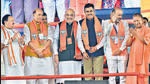 Citing the BJP's recent electoral wins in Uttar Pradesh's Azamgarh and Rampur, where Muslims are present in large numbers, Modi is learnt to have said the party should examine how marginalised Muslim communities who have benefitted from the government's policies have lent support to the party.
The Prime Minister told his party colleagues that the BJP's aim should be pro-people and proactive good governance.