Latest from ibrahim mohamed solih
In a telephonic conversation, the leaders talked about the "health and economic challenges" the coronavirus pandemic poses for the Maldives.

Updated on Apr 20, 2020 01:12 PM IST
India gifted the indigenously made patrol vessel CGS Kaamiyaabu to the Maldives National Defense Coast Guard.

Updated on Dec 04, 2019 07:02 PM IST
India has reasons to be pleased with recent electoral results. However, it would be a mistake to assume that China's influence has vanished from the Maldives

Updated on Apr 08, 2019 09:27 PM IST
Even before he assumed office, President Solih had spoken of an "India first" policy, a significant shift away from his predecessor Abdulla Yameen's tight embrace of China

Updated on Nov 21, 2018 08:15 AM IST
Maldives is reportedly planning to pull out of a free trade agreement with China as the island nation moves closer to India.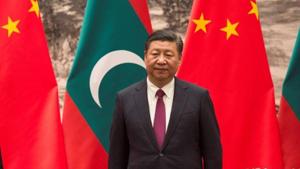 Updated on Nov 20, 2018 05:34 PM IST