Latest from Manipur Election
The fires in Manipur might spread to Mizoram and neighbouring areas. That is why it is critical to put a stop to the current storm of ethnic rivalry.

Published on Jul 31, 2023 09:01 AM IST
Security presence which has been bolstered by flying in more army troops and rapid action force and central police forces was clearly visible at major areas.

Updated on May 06, 2023 03:06 PM IST
Manipur chief minister N Biren Singh along with five other ministers was sworn in during a colourful swearing in ceremony at the lawns of Raj Bhawan in Imphal on March 21, after he was elected as leader of the legislature party of the BJP on March 20.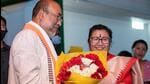 Updated on Mar 27, 2022 02:27 AM IST
Manipur oath ceremony: The oath ceremony comes more than 10 days after election results were declared.

Published on Mar 21, 2022 09:50 AM IST
The BJP central observers had landed in Imphal earlier in the day to attend the crucial party meeting for the formation of the new BJP government in Manipur.

Updated on Mar 20, 2022 08:23 PM IST
Reported by Sobhapati Samom | Written by Aniruddha Dhar