Latest from market capitalisation
LIC has tumbled 40% since its trading debut a year ago. The Congress attacked the Centre over the fall in the company's market capitalisation.

Updated on May 17, 2023 09:17 PM IST
The Supreme Court is expected to hear the matter next on May 8

Updated on Apr 30, 2023 12:23 AM IST
Market sentiment remained weak amid surging COVID cases in China and a few other nations, while stronger US growth data cemented expectations of the Federal Reserve continuing with its hawkish stance.


Published on Dec 25, 2022 01:41 PM IST
PTI | | Posted by Aryan Prakash
Only Reliance Industries Ltd and Infosys took losses in their market capitalisation for the week closed on Friday.

Published on May 09, 2021 10:52 AM IST
Only Tata Consultancy Services (TCS), Hindustan Unilever Limited and HDFC from the top-10 list saw a rise in their market capitalisation.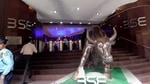 Published on Mar 28, 2021 11:22 AM IST