Police said the duo had gone to take a dip in the river on the occasion of Purnima when they got caught in the flow of water and drowned

Updated on Sep 01, 2023 12:43 AM IST
Ranging widely across time and around the world, this book is a vast exploration of stories of human migrations that have shaped the modern world

Updated on Jun 23, 2023 05:02 PM IST
Five people have been arrested as part of a homicide investigation, including a migrant accused of starting the March 27 fire.

Published on Apr 04, 2023 03:05 AM IST
In May 2022, Sanjib Haldar and Gayatri Padiami married under the Special Marriages Act after being in love for three years. However, their relationship was star crossed.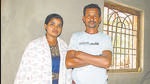 Updated on Jun 09, 2022 12:00 PM IST
The nationwide injunction issued by US District Judge Robert Summerhays means the restrictions, which were set to end on May 23, will remain in place across the border as the litigation proceeds, absent any appeal by the US Department of Justice (DOJ).


Published on May 21, 2022 03:58 AM IST