Latest from Number Theory
What do the latest numbers, analyst forecasts, and high-frequency data tell us about the state of Indian economy?


Updated on Dec 01, 2022 04:42 AM IST
An HT analysis of prison statistics for 2021 released earlier this year suggests that the President's comments about how the criminal justice system is biased against the poor and underprivileged are backed by data.


Updated on Nov 30, 2022 01:51 PM IST
Over the past week, the Covid-19 outbreak in China has dominated headlines. Following a record surge in cases, all major cities, including Beijing and Shanghai, have been put under some form of lockdown, forcing people to hit the streets in a rare outburst of public anger against the government.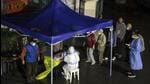 Updated on Nov 29, 2022 02:15 PM IST
The gruesome case involving 26-year old Shraddha Walkar, allegedly killed by her partner Aaftab Amin Poonawala has brought to fore the menace of intimate partner violence in the country.


Updated on Nov 18, 2022 03:28 PM IST
At the closing session of the G20 summit in Bali, Indonesia, Prime Minister Narendra Modi officially took over the presidency of the group and promised to make it a "catalyst for global change" at a "time when the world is simultaneously grappling with geopolitical tensions, economic slowdown, rising food and energy prices and the long-term ill-effects of the pandemic".


Updated on Nov 17, 2022 03:32 PM IST