Latest from people with disability
People living with disabilities in India are often met with discrimination and exclusion, and the dating scene is no exception. But a dating app with a focus on inclusivity might be a game changer.

Published on Feb 23, 2023 12:20 PM IST
A disability rights activist, recently posted a video highlighting the challenges that people with disabilities face while using public infrastructure.


Published on Jan 05, 2023 12:22 PM IST
The programme is designed to discreetly help passengers with hidden disabilities to navigate public places. Hidden disabilities do not have physical signs and may not be obvious. For example, a person with anxiety, diabetes or other such conditions is considered a person with a hidden disability.


Updated on Dec 16, 2022 01:50 PM IST
ANI | | Posted by Yamini C S
Ayaan received the inaugural bravery award from the Lepra India Trust on International Day of Persons with Disabilities.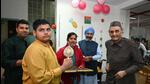 Updated on Dec 04, 2022 02:16 AM IST
The article has been authored by Syamala Gidugu, executive director, AADI, an NGO whose initiatives include Jeevika, an employability programme focusing on work skills for people with disabilities and inclusive work environments.


Published on Nov 30, 2022 02:06 PM IST