Latest from punjab assembly
AAP MLAs had taken up a discussion in the 117-member Punjab Assembly hitting out at the BJP over an alleged bid to topple the six-month-old government.

Published on Oct 03, 2022 08:25 PM IST
Written by Sharmita Kar | Edited by Sohini Goswami
The session has been called after much back and forth between the Bhagwant Mann government and the governor.

Published on Sep 25, 2022 10:23 AM IST
By
HT News Desk
| Reported by Navneet Sharma | Edited by Swati Bhasin
The Punjab governor's office said it sought legal opinion on representations received from opposition leaders, Pratap Singh Bajwa, Sukhpal Singh Khaira and Ashwani Sharma, against the special session

Updated on Sep 21, 2022 08:55 PM IST
Chief minister Bhagwant Mann, who moved the resolution in the House, said he will soon raise the issue over the contentious programme with Prime Minister Narendra Modi and Union home minister Amit Shah.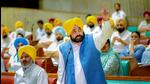 Updated on Jul 01, 2022 02:26 AM IST
Punjab Budget 2022: This was the first budget of the state's ruling AAP, and came a little more than three months after the party was elected to power here.

Published on Jun 27, 2022 11:33 AM IST