The 20,000-odd spectators who turned up at the Birsa Munda hockey stadium left the stands as a buzzing throng with the hosts clinching a convincing 2-0 win against a Spanish team that boasts of one of the world's best defensive set-ups.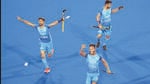 Published on Jan 14, 2023 12:04 AM IST
NIT Rourkela hosted Diamond Jubilee Global Alumni Meet from 28th December to 30th December 2022.


Published on Dec 31, 2022 11:37 AM IST
Worth ₹14.91 crore, the sewage treatment plant was set up to meet the latest norms prescribed by the state and central pollution control boards for the discharge of latest sewage.


Published on Oct 15, 2022 01:42 PM IST
The previous highest single-day production record of the unit was 542 tonnes on March 24, 1983. Atanu Bhowmick, the director-in-charge of the Rourkela Steel Plant visited the ERW Pipe Plant on September 26 to congratulate the unit members.


Published on Sep 29, 2022 05:39 PM IST
CIET at NIT Rourkela's Department of Electronics and Communication Engineering (ECE) has hosted a six-day Professional Development Programme (PDP) on "IoT & Machine Intelligence for Industry 4.0

Published on Jun 13, 2022 08:09 PM IST
The Rourkela Steel Plant was adjudged with its best-ever 4.75-star energy rating in the competition held by the Confederation of Indian Industry (CII) in September.


Published on Nov 25, 2021 05:48 PM IST