The G-20 event will be the first international meeting being held in Kashmir after the abrogation of Article 370 and the bifurcation of the erstwhile state.

Published on May 14, 2023 05:40 PM IST
With Sri Lanka, Pakistan and Nepal in economic doldrums, and Afghanistan under Islamist Taliban occupation, the future of SAARC is dark. This leaves India no option but to engage neighbourhood bilaterally and ensure that its national security is not compromised.


Updated on May 19, 2022 09:32 AM IST
The future of SAARC and specialised bodies such as SAU is directly proportional to India's political interest. Notwithstanding Pakistan's recalcitrant attitude, SAARC serves India's interests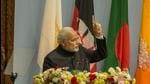 Updated on Dec 04, 2021 10:19 PM IST
India and some other member nations were against the proposal, following which the meeting had to be cancelled due to "lack of concurrence".


Published on Sep 22, 2021 09:44 AM IST
On March 15, 2020, during a video conference of the SAARC Heads of State, Prime Minister Narendra Modi had proposed a Coronavirus Emergency Fund for the region.


Published on Feb 17, 2021 01:22 PM IST