Heath Ledger's Joker is well known by many people. A recent deepfake video shows how he would have looked like if he played the role without makeup.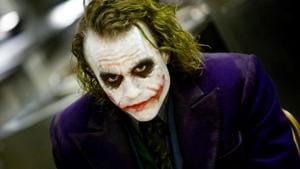 Published on Apr 03, 2023 04:39 PM IST
Actor Robert Pattinson, who took on the role of the superhero Batman last year, shared his feelings on how men in Hollywood have to look a certain way for their projects.

Published on Jan 20, 2023 05:46 PM IST
George Clooney has talked about playing the Batman in the early days of his career, when the lure of a franchise was too good to ignore.


Updated on Nov 12, 2022 02:29 PM IST
Kevin Conroy, who famously voiced Batman in the iconic Batman: The Animated Series among other projects, has died of cancer at the age of 66.


Published on Nov 11, 2022 10:41 PM IST
George Clooney poked fun at his Batman stint but proclaimed himself the 'best' in the role, even adding that Ben Affleck's version is no match for him.


Published on Sep 15, 2022 05:44 PM IST