King Charles III First Address: Ahead of the address, King Charles III greeted crowds outside Buckingham Palace upon his return to London with Camilla, the new Queen Consort.

Published on Sep 09, 2022 09:59 PM IST
This video that has been shared on Instagram shows how a dancer from the UK can be seen dancing to Patakha Guddi from Alia Bhatt's Highway.

Published on Sep 01, 2022 12:44 PM IST
In a string of photos that recently went viral, one gets to see Dubai ruler Sheikh Hamdan taking a trip around the United Kingdom and enjoying with his grandchildren.

Published on Aug 28, 2022 03:12 PM IST
Kaarrmann is listed 198th in the Sunday Times Rich List 2022 with the net worth of £865 million


Published on Jun 27, 2022 12:31 PM IST
The accused, Maurice Robinson, from Northern Ireland has been apprehended and charged by the police.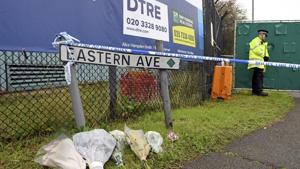 Updated on Oct 27, 2019 06:19 AM IST
London |
By
Agence France-Presse