Latest from Uttarakhand Election
Here are today's top news, analysis and opinion at 9pm. Know all about the latest news and other news updates from Hindustan Times.


Published on Jun 26, 2022 08:56 PM IST
UP MLC Polls: Nine BJP candidates have been elected unopposed after the Election Commission announced the MLC polls for 36 seats last month.


Published on Apr 09, 2022 08:46 AM IST
BJP leaders repeatedly cited Congress leader Aqeel Ahmed's claim about a 'Muslim university' through the Uttarakhand election campaign, stressing that Congress wants to set up the university in the land of Gods.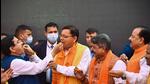 Updated on Mar 29, 2022 08:58 PM IST
Yogi Adityanath says the Opposition must work in tandem with the government to strengthen democracy.


Updated on Mar 29, 2022 03:19 PM IST
Umashankar Singh Balla will be the party's only representative in the state assembly this time.


Published on Mar 27, 2022 01:56 PM IST