The world is in dire need of wheat from Australia, one of the world's top suppliers. Prices of the essential food grain surged to a record in March after Russia's invasion of Ukraine choked exports from the Black Sea region.

Published on Aug 07, 2022 06:21 AM IST
More than a dozen countries have requested Indian wheat shipments as a global food crisis triggered by the Ukraine war crimped availability, pushing up prices.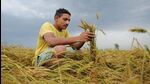 Updated on Jul 15, 2022 07:55 AM IST
India on May 13 banned private wheat exports to manage its food security needs, keeping a window open for overseas shipments only on the specific request of a foreign government.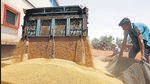 Updated on Jul 08, 2022 12:39 AM IST
On May 14, MP was one of 10 states whose wheat allocation was revised downward, from 2.01 lakh tonne to 1 lakh tonne, with a corresponding increase in the allocation of rice. The move was prompted by a reduction in wheat stocks in the so-called central pool.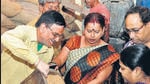 Updated on Jun 30, 2022 02:11 AM IST
Now, official data from crop-cutting experiments, which help scientists determine yields, show the extent of damage.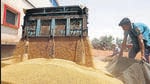 Updated on Jun 21, 2022 07:50 AM IST