Adorable doggo refuses to let go off bride during vidai ceremony. Watch heartwarming video
Feb 02, 2023 06:33 PM IST
The viral Instagram video captures an emotional moment between a bride and her dog during her vidai ceremony.
Dogs and humans share a very special bond that cannot be described in words, and a video gaining traction online shows just the same. It captures how a pet dog refuses to leave a bride's side during her vidai ceremony. The video is emotional and is leaving people teary-eyed. It may have the same effect on you.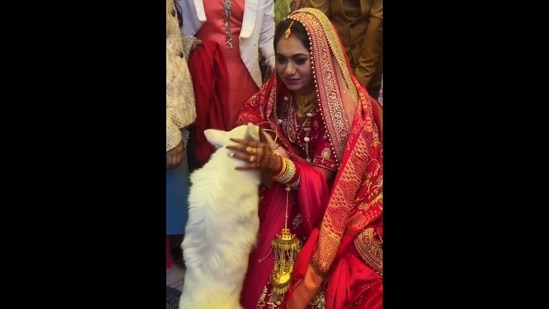 (Also Read: Man boards flight with his three pet cats, shares adorably cute video. Watch)
"Even the beast knows it all," read the caption of the video shared on Instagram. It accompanies several emoticons, including #viralvideos and #vidai. The video captures the bride petting her furry friend during her vidai ceremony. What's emotional and tugged at the heartstrings of many is that the dog clings to the bride and refuses to let her go.
Watch the video below:
Since being shared on January 6, the video has raked 5.4 lakh views and the numbers are still increasing. The share has also prompted many to post comments.
Here's how people reacted to the video:
"Take him with you," shared an individual. "True love," posted another. "Nice," wrote a third. A fourth commented, "Dogs really are human's best friend. This is such a sweet and cute video. I am crying." Many also posted crying and heart emoticons in the comments section.