Divyanka Tripathi gifts herself a brand new Royal Enfield bike, husband Vivek Dahiya asks for a 'ride date'
Feb 01, 2023 02:35 PM IST
Divyanka Tripathi Dahiya took to Instagram to share the thrilling news with her fans and posted several photos and videos.
Actor Divyanka Tripathi Dahiya has been 'beaming with happiness' for the past few days. Reason? She gifted herself a brand new Royal Enfiled bike. The actor took to Instagram to share the thrilling news with her fans and followers. She also posted a video of herself riding a Meteor Steller 350. Soon, her husband, Vivek Dahiya, reacted to the post and asked for a 'ride date'. Many Instagram users also flocked to the comments section to congratulate her. Some even shared that they, too, want to ride a bike.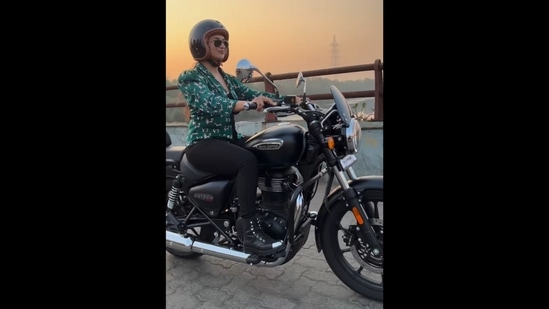 (Also Read: 'More of this': Sania Mirza posts love-filled pics with son Izhan Mirza Malik)
"I've been beaming with happiness for the last few days and the reason is this new baby I gifted myself! There's nothing as thrilling as dreaming big and achieving it too," wrote Divyanka Tripathi Dahiya while sharing a video on Instagram. Her husband, Vivek Dahiya, soon dropped a comment and asked for a ride date. He wrote, "Please welcome the new biker girl in town. Ride date soon?"
Watch the video below:
Two days later, Divyanka shared another Instagram post setting major couple goals with the caption, "Ride together! Stay together!" She posted two pictures taken moments before their 'ride date' and a video captured by actor Hanif Hilal. The first picture shows Divyanka and Vivek on their respective bikes giving high five, while the other captures them with their helmets on. The video shows them riding on the roads.
Take a look at her Instagram post below:
Since being shared on Instagram, both posts have attracted a lot of attention. Many also took to the video's comments section to post their thoughts.
Here's how people reacted to her posts:
Actor Pooja A Gor also dropped a comment. "Is that a super meteor 350?? Wow wow," she wrote with a few smiling face and heart eyes emoticons. TV actor Manish Naggdev posted, "Mujhe ride chahiye (I need a ride)." "Oh Woow! The hottest, coolest, biker girl ever!!" posted an Instagram user. "Omgg can't stop watching you," expressed another. A third commented, "Man that's my dream too! Riding a bike with my hair open in the wind without any care of the world. Definitely, one day!!! Also, woman you slayyyy." "Couple goals obviously," wrote a fourth. "This!! Love it! Goals in every way," joined a fifth.