Dog's surprised reaction during chiropractic therapy is hilariously adorable. Watch
Nov 27, 2022 03:22 PM IST
The video showing a dog's hilarious reaction during chiropractic therapy was posted on Instagram.
Pet parents often make sure to provide the best for their pet babies to make their lives comfortable. One such pet parent took her dog for chiropractic therapy. And now, an adorable video showing the pooch's reaction during the therapy has left people in splits. There is a possibility that after watching the video you will find yourself smiling too.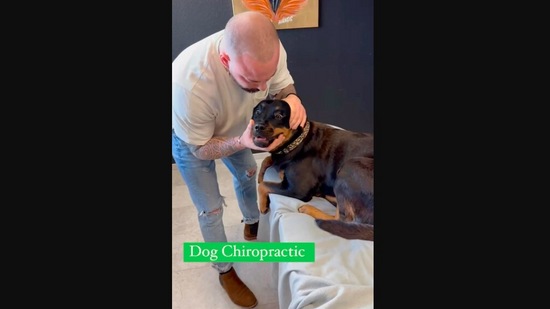 The video is posted on an Instagram page called @bones_hands_animals. The video is shared with a caption written in German. When translated, it reads, "Thank you for your visit. "
The clip opens to show the dog receiving therapy from a chiropractor. It is towards the end of the session, the dog reacts in a way that has now left people giggling.
We won't spoil the fun by giving away everything, so take a look:
The video, since being shared on October 29, has gone viral. Till now, the video has accumulated over 50.9 million views and the numbers are only increasing. The share has also prompted people to post various comments.
"Look at his eyes," posted an Instagram user along with a laughing out loud emoticon. "He took a second to make sure he was still alive," shared another. "So awesome!! The reaction was priceless," commented a third. "His reaction is everything," wrote a fourth.