Fishermen join forest officials in Tamil Nadu to release rescued turtles into water. Watch
Feb 03, 2023 11:45 AM IST
IAS officer Supriya Sahu took to Twitter to share the video that shows local fishermen in Tamil Nadu joining the forest officials to release a few rescued turtles.
IAS officer Supriya Sahu, Additional Chief Secretary Environment Climate Change & Forests in Tamil Nadu, is an active Twitter user. She often takes to the microblogging platform to share various posts related to wildlife conservation. In her latest post, she shared about a mission conducted by forest officials and local fishermen in Tamil Nadu to release rescued turtles back into the waters.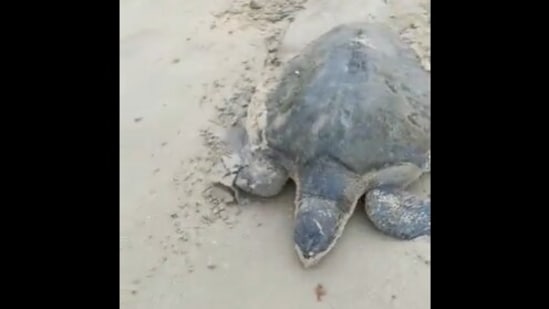 "Turtle rescue jointly by the local fishermen and the Tamil Nadu Forest Team at Dhanushkodi, Gulf of Mannar #TNForest #rescue," she tweeted while posting the video. The clip opens to show a turtle slowly making its way towards the sea. As the video pans to the other side, a few people are seen helping more turtles to get to the water.
Take a look at the video:
Since being shared, the video has received more than 5,400 views and counting. Additionally, the post has accumulated over 300 likes. People posted various comments while reacting to the video.
Here's how Twitter users reacted:
"Ma'am your love towards the environment is really amazing. Nice to see you post these tweets," posted a Twitter user. "Great initiative," expressed another. "Good for turtle preservation," wrote a third.
Topics