Had tears in my eyes, glad I could do something for India: Gaurav Taneja
Feb 02, 2023 02:24 PM IST
YouTuber Gaurav Taneja, who has scripted history by creating the largest map of India in the sky, talks about his feat and the challenges he braved en route
India's 74th Republic Day was celebrated with much gusto all across the country, with the Tricolour flying high. On the same day, the sky turned canvas for YouTuber Gaurav Taneja, who scripted history by flying across the US airspace, drawing a map of India — the largest one ever to be made.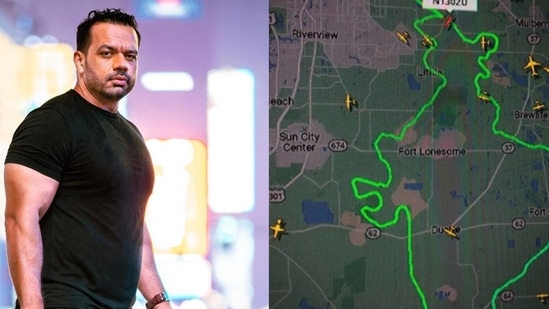 An engineer-turned-pilot, Taneja says he wanted to pay a special tribute to India on this historic occasion.
He tells us on a call from Florida, "Flying is my passion. I gave up engineering for a career in aviation. I wanted to pay a special tribute to my country. And what better day [to do so] than on the day when the Constitution came into force."
Taneja's tribute is part of his ongoing drive called Lift India to Newer Heights, a movement he started with #AasmanMeinBharat. The flight, he says, lasted approximately three hours and covered roughly 350 kilometres. But, the real challenge, as Taneja points out, was finding an area that was clear of weather or airspace restrictions.
The YouTuber says he and his team also had to make sure that there were no major airports or heavy jets flying across, as the turbulence from these large planes could disrupt their flight path.
"While I was on the flight, I had no idea what path I am tracking. I was nervous because the winds were a little stronger than we had foreseen. This made taking steep turns a bit difficult," he says. But, despite the circumstances, the team successfully completed their mission, creating a stunning map of India in the sky. And when he landed and saw the complete map, he was overwhelmed with pride and emotion.
"After I landed and saw the map tracked, I had goosebumps. I felt so proud after we saw the complete map," he gushes.
The response to the 36-year-old's tribute has been overwhelmingly positive, with wishes and appreciation pouring in from all corners of the country on his YouTube video.
"Almost everyone had goosebumps and tears in their eyes and so did I. I was happy I could do something for my country. This was my main motivation," he signs off, sharing that he is committed to further using his platform to inspire others to work towards the common goal of taking India to greater heights.