Indian content creator shows how to compose Tony Kakkar's song in two minutes, singer responds to viral video
Published on Nov 28, 2022 11:00 AM IST
Indian content creator, in a viral video on Instagram, shares how to compose Tony Kakkar's song in two minutes.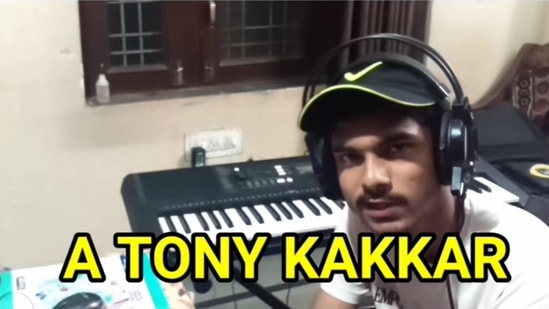 "How to make a Tony Kakkar song in two minutes," reads the text overlay on a video that is doing the rounds across social media platforms. And as the text insert suggests, the video shows an Indian content creator sharing a step-wise guide on composing Tony Kakkar's song in two minutes. The video opens with the content creator sharing step 1, which involves using any type of guitar tune. As the video progresses, he shares step 2, which involves adding a lead on the same pattern as that of the guitar. In step 3, he adds a piano tune. The fourth step involves adding Tony Kakkar's 'favourite' beat. He then shared the end result, and it is too hilarious to miss out on.
The video was posted on Instagram by a user who goes by Sanatan. "Isn't it right, he does like this only," read the caption written alongside the video when translated to English. The caption also accompanied a laughing emoticon and several hashtags, including #tonykakkar and #song.
Watch the viral video posted on Instagram below:
Since being shared five days ago, the video has garnered more than 9.8 million views, and the numbers are still going up. The share has also gathered 1.2 million likes and several comments.
Tony Kakkar commented on the video and wrote, "Zor zor se bolke sabko schemein bata rahe ho (You are speaking loudly and telling everyone the scheme). Btw loved it."
"You made an anthem for 'papa ki pari' bro. Now this will be used in every papa ki pari video," posted an individual. "Waaaooooo," expressed another. "Notification: Papa ki Pari also liked this song," joked a third with laughing emoticons. "Loved this version moree," wrote a fourth.