Influencers react to Government's new disclosure rules
Jan 27, 2023 04:11 PM IST
Social media influencers in India talk about the recent government order mandating them to disclose all material interests, such as gifts and discounts, when endorsing products or services, reflecting on the impact it might have on their content creation and credibility
As the clout of social media influencers grows in India, the Department of Consumer Affairs, in a meeting held last week, introduced guidelines to limit misleading promotions on the web. As per the guidelines, it is mandatory for digital content creators to disclose all material interests, such as gifts and discounts, when endorsing products or services.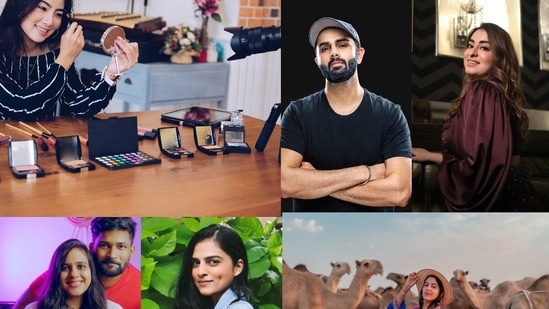 Reacting to the guidelines, many influencers have welcomed the move, while others spoke about how the industry adapts to the new rules and the impact it might have on their content creation and credibility.
Chef Sanjyot Keer said, "I believe these rules should be the same across platforms, not just social media but even with mainstream television or print advertisement space because similar deals happen not just on social media."
Madan Gowri, a popular YouTuber and digital content creator, welcomes the new order but at the same time feels that the diktats could have probably put into use sooner. "I personally feel these mandates are something that should have happened much earlier because I personally have seen so many influencers camouflaging a proper advertisement as real content, and it actually influences people in a very wrong way," he said.
Content creator Muskan Chanchlani feels this will encourage content creators "to be more careful" about the brands they choose. "The new guidelines released will help the influencers be more transparent about their paid partnerships. It'll affect creators in ways that they'll have to be more careful of what brands they choose to work with and what products they promote, which will actually help them build credibility," she said.
The failure to follow the new guidelines can result in legal action, including a ban on endorsements and fines of up to ₹10 lakh for one offence and up to ₹50 lakh for repeat offences. Content creator Aanchal Agrawal feels having guidelines in place will "ensure transparency between us and the audience".
She said, "The audience needs to know what is being advertised and what is being advised to make an informed decision." Content creator Anisha Dixit shared, "I think the guidelines are important. We carry a big responsibility when we endorse something."
While it remains to be seen how these regulations will play out in the long run, and whether they will truly serve to protect consumers and promote transparency, content creators don't think the new guidelines will affect or end up stifling their creativity and monetization potential.
"The new guidelines are no problem for any honest creator because many of us are anyway following ASCI guidelines. It is mandatory and in good spirit to disclose any monetary compensation that a creator receives for their posts. This move will be beneficial for consumers as well to distinguish what reviews are genuine and what are paid," said the popular content creating duo Abhi and Niyu.