Man boards flight with his three pet cats, shares adorably cute video. Watch
Feb 01, 2023 08:24 PM IST
This video that captures a man with his pet cats aboard a flight was shared on Instagram.
If you are switching between different social media platforms and scrolling endlessly through them to watch something that will instantly cheer you up, we have a video that will do the trick. Shared on Instagram, the video captures three cute cats flying with their pet parent. The video is bound to tug at your heartstrings. It may even prompt you to say 'aww' that too repeatedly.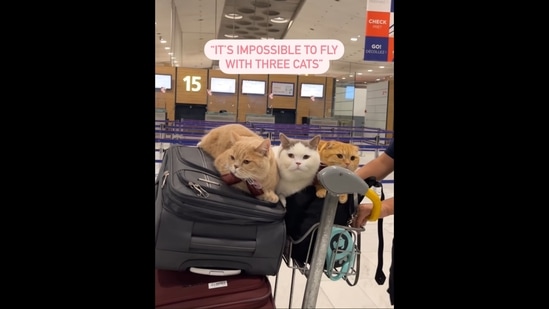 The video was posted on the Instagram page spongecake_thescottishfold. It is dedicated to three cats named Sponge Cake, Mocha, and Donut. The page often posts photos and videos of the cats enjoying their lives with their human. From going on a coffee date to travelling worldwide, the cats do it all. "It's actually the best! People often ask us how cat dad can travel alone with three cats. The truth is we travel as a family (cat dad, cat mom and three cats). We get three air plane tickets in total," read the caption written along with the video.
(Also Read: Man goes on a coffee date with his cats in NYC, viral video melts hearts)
The video opens with a text insert "It's impossible to fly with three cats" and shows three cats resting on the cart carrying the luggage. The video then transitions to show the cats aboard a flight. While one can be seen loafing by the window, the other is seen getting treated with its favourite snack. The third one is enjoying the view from the plane's window.
Watch the video below:
Since being shared six days ago, the video has garnered more than 1.5 lakh views. The share has also prompted many to express their thoughts in the comments section.
Here's what people wrote in the video's comments section:
"Most airlines allow one pet per passenger, how did they allow all three? Also, is cargo safe for Persian pets in your opinion?" wrote an Instagram user. "I think other passengers need to learn from them on how to behave while traveling.. They should be made the mascots. Lots of love," joked another. "Safe travels! We look forward to seeing photos of your kitty adventures!!" expressed a third. "To meet Sponge Cake, Donut and Mocha would be a dream come true!" shared a fourth. "You guys show them all how it's done," read a comment from an Insta page dedicated to a cat. Another comment from a cat page on Instagram read, "Aw, now I see the reason why you need 3 tickets. Family travel is the best."