'Mornings at the office': Ola CEO Bhavish Aggarwal shares a 'pawsome' pic
Feb 01, 2023 05:53 PM IST
Ola CEO Bhavish Aggarwal took to Twitter to post a picture.
Ola CEO Bhavish Aggarwal spent a 'pawsome' morning at his office today. He even shared a glimpse of it with his Twitter followers, and it expectedly raked a flurry of reactions. After looking at his post, some even shared how they spent their mornings at home or in office spaces.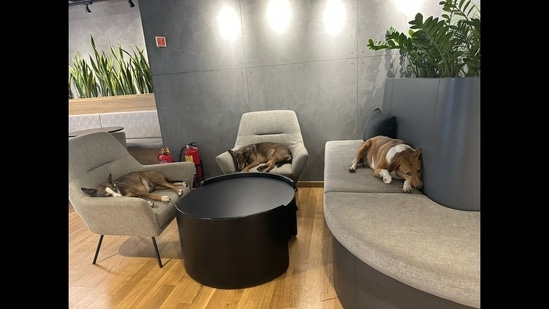 The picture shared by Bhavish Aggarwal shows three dogs relaxing and napping on sofas inside the Ola office. He wrote "Mornings at the office" as the caption of the picture and completed it with a smiling emoticon.
Take a look at his tweet below:
Since being posted a few hours ago, the tweet has accumulated more than 45,000 views, and the numbers are still increasing. The share has also collected several likes and numerous comments.
Here's how people reacted to Bhavish Aggarwal's post:
This is, however, not the first time he shared about dogs at his office. In 2021, Ola's boss shared a video stating that it is the 'best way to do meetings'. The video shows him petting a dog during an informal meeting.