NFL coach's daughter adorably imitates him during press conference, cute video goes viral
Feb 01, 2023 04:21 PM IST
The video of the NFL coach's daughter adorably imitating him during a press conference was posted on Twitter.
The videos capturing the different antics of kids almost always leave people happy. One such video was recently shared online and it has left many smiling. The video shows Eagles coach Nick Sirianni's daughter adorably imitating him during a press conference.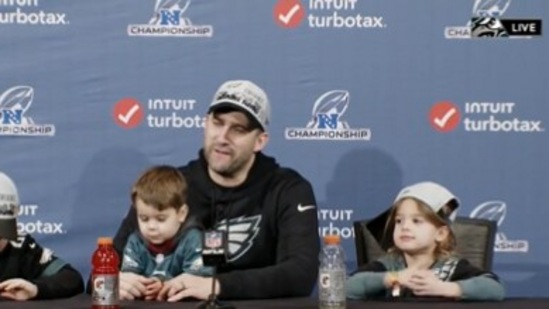 NFL took to their official Twitter handle to share the video. "Taylor Sirianni is a whole mood. " the organisation wrote. The incident took place when Sirianni was attending a postgame press conference.
The video opens to show the coach attending the event with his kids. The clip shows how the girl starts imitating her dad's hand gestures as he keeps on speaking about the game. The video ends with Sirianni politely asking his daughter to stop.
Take a look at the video:
The video was shared a day ago. Since being posted, the clip has accumulated more than 3.1 lakh views and counting. Additionally, the share has received close to 4,600 likes. The video has also prompted people to post various comments.
Here's how Twitter users reacted:
"She's adorable. I hope she never stops," wrote a Twitter user. "Great DAD moment right there," expressed another. "Taylor is hilarious," commented a third. "Daughter takes the show," shared a fourth.
Topics