Orangutan hilariously asks for food from zoo visitor in viral video. Watch
Nov 27, 2022 08:41 AM IST
The viral video that captures an orangutan's funny expressions was shared on Twitter.
If you are looking for a little pick-me-up content on a Sunday morning, go no further, as we have a video that will cheer you up instantly. The video showcases an orangutan in a zoo and its hilarious way of demanding food from a visitor. The video is such that you will watch it over and over again.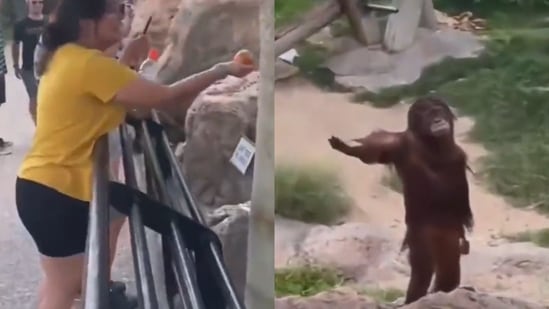 The video was shared on the Twitter handle @buitengebieden. The handle regularly posts cute and funny animal content for its 1.9 million followers. "Now give it to me...," read the caption of the video shared online. The video opens to show a woman holding a fruit in her hands. As the video progresses, the camera pans out to show an orangutan standing inside a zoo with an extended arm and zooms in to show its funny expression.
Watch the viral Twitter video below:
The video was shared a day ago. It has since then raked up more than 1.2 million views, and the numbers are still increasing. The share has also prompted people to leave their thoughts in the comments section.
"LMAO, why is this so funny?" posted an individual. "Who taught him that pose?" enquired another. "He's not asking, He's literally giving orders," commented a third. "This is from the Albuquerque Biopark. That particular orangutan frequently does that trying to get people to throw her food," shared a fourth.