Pakistani man grooves to Bang Bang and Jai Jai Shiv Shankar at a wedding, wins hearts
Feb 01, 2023 02:03 PM IST
A viral video shows a Pakistani man energetically dancing to popular Bollywood songs at a wedding. Many people have appreciated his performace.
Over the years, wedding dances have become more entertaining to watch. Many people love to put on their best performances and wow the people around them. And recently, one such performance has gone viral online.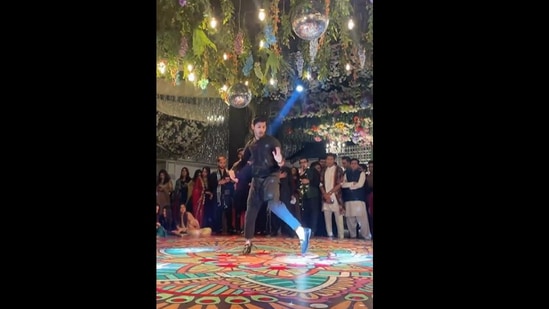 In a video shared by Instagram user @rayyansheikh123 you can see him dancing to the song Bang Bang and Jai Jai Shiv Shakar. The man energetically grooves to both songs as a crowd surrounds him in a circle. The people around him seemed to be surprised and were cheering for him.
Take a look at the video here:
Isn't it amazing? This video was shared just a few hours back. Since being uploaded, it has been liked by more than 3000 people. The clip has also received several comments. Many people have loved his performance.
Take a look at some of the comments here:
One person in the Instagram comments section said, "Keep it up, bro. Best wishes." Another person said, "Lovely choreography and song choice. We love that you perform with your facial expressions as well; this is engaging for the audience. You put your heart and soul into the dance. Very gifted, well done." A third person added, "Favourite person. Nice steps." "Outstanding," said a fourth. Many others have reacted using heart and fire emojis on the post.