'Real Bahubali': Netizens react as man climbs on roof of bus with bike on his head
Published on Nov 27, 2022 02:36 PM IST
The video that is going viral online shows a man climbing on the roof of a bus with a bike on his head.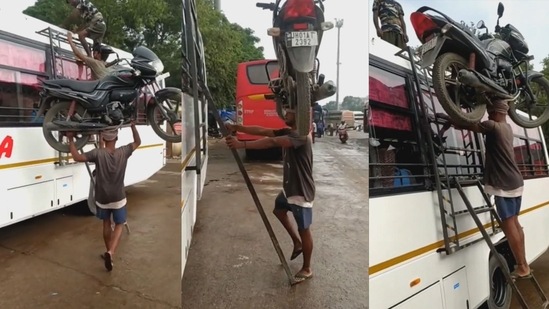 A man carrying a bike on his head in a video going viral has been hailed as 'Bahubali' by many on the Internet. Shared on Twitter, the video captures the man climbing up the ladder to reach the roof of a bus while balancing the bike on his head.
The video was posted on the Twitter handle @Gulzar_sahab. "They are really super human," read the caption of the video shared on Twitter. It also accompanies several emoticons, including a clapping emoticon. The video opens to show a man with a bike on his head approaching the bus. As the video progresses, one can see him climbing to the top while balancing an enormous weight on his head. Towards the end, the camera pans out to show others standing and looking at the balancing skills of the man.
Watch the video shared on Twitter right here:
The video was shared on November 25; since then, it has been viewed more than 98,300 times. It has also amassed over 6,400 likes and several retweets. The video has also prompted many to leave comments.
"Although he managed to weigh it but how firmly he balances it is really worth appreciating. These are muscles bulit by hard work," posted an individual. "I literally need that neck strength," commented another. "Wow! God Bless him," expressed a third. "Incredible India," shared a fourth. "Real Bahubali!" wrote a fifth.