'Same stage. 22 years apart': Vineeta Singh visits IIT Madras, shares pics
Feb 01, 2023 01:45 PM IST
Sugar Cosmetics CEO and Shark Tank India judge Vineeta Singh took to Instagram to share about her visit to IIT Madras.
Sugar Cosmetics CEO Vineeta Singh's Instagram profile is filled with various interesting posts. From sharing about her products to her goals and aspirations to giving a peek into her personal life, the Shark Tank India judge shares various posts that never fail to create a buzz. One such post was shared a little over an hour ago. She shared two pictures of her at IIT Madras, one from her recent visit and the other from 22 years earlier.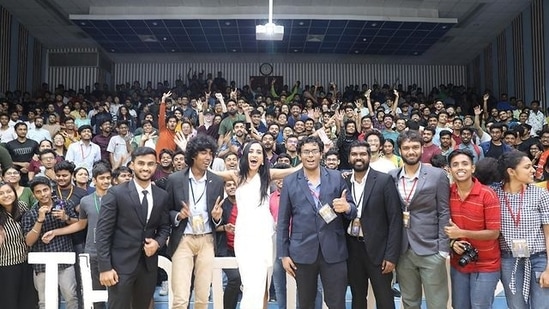 "Same stage. 22 years apart. Be impatient about the input every single day, but be patient about the outcome over 20 years. Hard to do but there's no other way," Vineeta Singh wrote while posting the images. She also added a heart emoticon in the caption.
The first image she shared shows her with students of the institution who attended her recent event. The second image is a throwback picture that shows her when she was a student at IIT Madras. She completed her B.Tech in Electrical Engineering from the institution.
Take a look at the post:
Since being posted, the share has accumulated close to 14,000 likes. People also posted various comments while reacting to the video. Some did so through heart emoticons.
Here's how Instagram users reacted:
"True! It's really really hard to be patient," posted an Instagram user. "Your journey gives goosebumps every time," commented another. "Keeping entrepreneurs inspired! More power to you all!" expressed a third. "Now this is called success," wrote a fourth.