This friendship between a monkey and a cat will make you say aww. Watch
Feb 01, 2023 07:46 PM IST
An adorable video of a cat and a monkey shows the bond between them. Many people have reacted to the video.
Animals forming friendships with animals of other species may not seem to be common. But it is not something unlikely too. Numerous pets and animals are capable of developing sincere bonds with one another. And it looks like this cat and monkey have also found friendship in each other.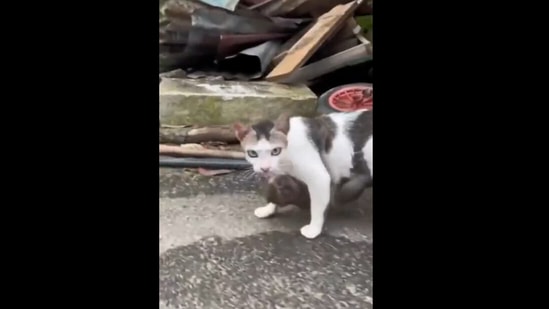 The video, which was shared by the Twitter page @Buitengebieden shows an adorable friendship between a cat and a monkey. The short clip shows a cat walking down the street and a monkey holding on to its furry friend. The post's caption reads, "Cat and a little monkey."
Take a look at the video here:
This video was shared one day ago. Since being uploaded, it has been viewed 1.2 million times. The clip also has several likes and comments. Some people thought the video was adorable, while others were unable to believe it and questioned this unlikely friendship.
Take a look at some of the comments here:
An individual in the comments section said, "I'm glad the cat is protecting him. I can't help but think that poor baby lost his real mother. " A second person said, "Aw, so precious!" A third person added, "That is true love. "
In comparison to these comments, some enquired about their bond. An individual added, "That is the craziest thing I've seen. Has the cat taken the monkey in as its baby?" person wrote, "Cat doesn't look entirely happy with this arrangement." "I wonder how this came to be!! This cat has absolutely adopted this monkey!" added a third.