Woman pretends to buy '$1400 safety pin bracelet' to prank her boyfriend. Watch his amusing reaction
Feb 01, 2023 03:10 PM IST
When a woman spotted a $1400 bracelet online, she decided to prank her boyfriend by making him believe that she bought it. His reaction is too funny to miss.
Several fashion trends catch our eye. However, not all are well-received by people, as some may question them or might be taken aback by surprise. Recently, something similar happened when a woman pranked her partner by gifting him a 'safety pin bracelet' that cost $1400 (Approx. ₹1,14,000)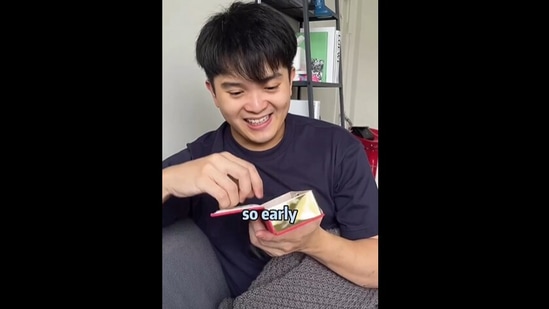 In a video shared by Instagram user @bertandlulu, the woman explains that she found a safety pin bracelet that cost $1410. After seeing this high-end accessory, she decided to prank her boyfriend and makes the same bracelet with safety pins she had at home. The woman then goes up to her boyfriend and asks him to guess the price. At first, he says $30, but when the woman says it's a luxury product, he assumes $500. However, after hearing that it costs $1400, he gets shocked. Later, the man realises that the woman is playing a prank on him.
Take a look at the video below:
This video was shared on December 17. Since being uploaded, it has been liked by 74,000 people and has received several comments as well.
Take a look at some of the reactions below:
An individual in the Instagram comments section said, "In India, you can buy a packet of 12 pins for 2-5rupees i.e 0.024-0.061 dollars." Another added, "The most disturbing part is that it's sold out right now." "He be like all the money wasted," posted a third. "Dude be like, where is my credit card now!" wrote a fourth.