Yashraj Mukhate fuses SRK's dialogue with Jhoome Jo Pathaan. Vishal Dadlani reacts
Feb 02, 2023 12:49 PM IST
Yashraj Mukhate added his own lyrics and Shah Rukh Khans's dialogue to Jhoome Jo Pathaan from the recently released film Pathaan.
Yashraj Mukhate is a name synonymous when it comes to creating music from viral trends and adding catchy tunes, beats, and dialogues to it. And the musician's recent composition is no different. It involves Shah Rukh Khan's dialogue and a song from his blockbuster film Pathaan. What's more, he added his own lyrics to the song. Mukhate's groovy composition is going viral on social media platforms, so much so that Vishal Dadlani dropped a comment saying he wants to do a collab.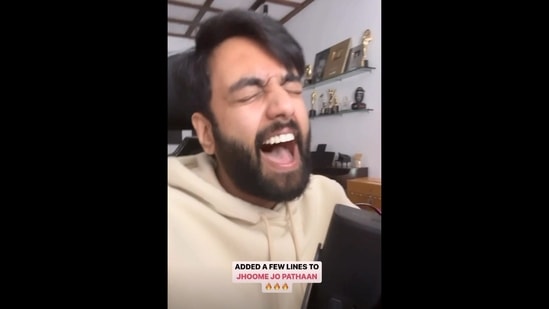 (Also Read: Amul celebrates SRK's return to silver screen with Pathaan-related doodle)
"Bohot zorse gaana aaya mujhe," read the caption of the video shared on Instagram by Yashraj Mukhate. He also added two hashtags, #pathaan and #jhoomejopathaan, to the caption. In the video, Yashraj Mukhate can be seen singing a few lines from Pathaan's song Jhoome Jo Pathaan and then continuing with his own lyrics. He even adds Shah Rukh Khan's 'Zinda hain' dialogue to the video. It is too good to miss out on. A text overlay on the video reads, "Added a few lines to Jhoome Jo Pathaan."
Watch the viral video below:
Since being shared a few hours ago on Instagram, the share has received more than 1.1 million views, and the numbers are still increasing. The share has also prompted many to post their thoughts in the comments section.
(Also Read: Pathaan fever grips David Warner, watch him step into SRK's shoes)
Here's how people reacted to the video:
Vishal Dadlani reacted to the video and wrote, "Hahahahahahahaha, wah!!!! Poora banaiyye, collab release karte hain! (Hahahahahahahaha, wow!!!! Complete it, let's release the collab!)" "Aaagggg (Fireee)," posted mimicry artist Chandni Bhabhda with fire emoticons. "End mein Tiger wala music mast tha!! (Tiger's music in the end was great!!)" commented an individual. "Banger," shared another. "Nailed it," posted a third.