Political spoofs: laughing all the way to polls
Hindustan Times |
, New Delhi
Sweta Kaushal
Nov 13, 2014 03:17 PM IST
A few years ago, spoofing the netas got you threats and, perhaps, broken bones. Now, the politicos retweet those same videos. Have our netas acquired a sense of humour or is it just the byproduct of a smart media strategy and an omnipotent social media?
Spoofs on political parties are not new. We have had political satires in our country since the days of Jaane Bhi Do Yaaron. However, that was for a niche audience.
Shekhar Suman ruffled not a few political feathers with his political jokes on Movers and Shakers all those years ago.
However, the scene is dramatically different in general elections 2014. There's a range of political spoofs and party members are not only taking these satires in the right spirit, they are also sharing them with the public.
With smartphones defying financial brackets and internet reaching the largest number of people ever in our country, we seem to have become more receptive to political satire.
While general elections began on April 7, the steady stream of YouTube videos spoofing the three top netas in the reckoning -- Narendra Modi, Rahul Gandhi and Arvind Kejriwal – started appearing much before.
When The Viral Fever (TVF) made their video on Arvind Kejriwal (), little did they know that it would become the most viewed Indian video for the week.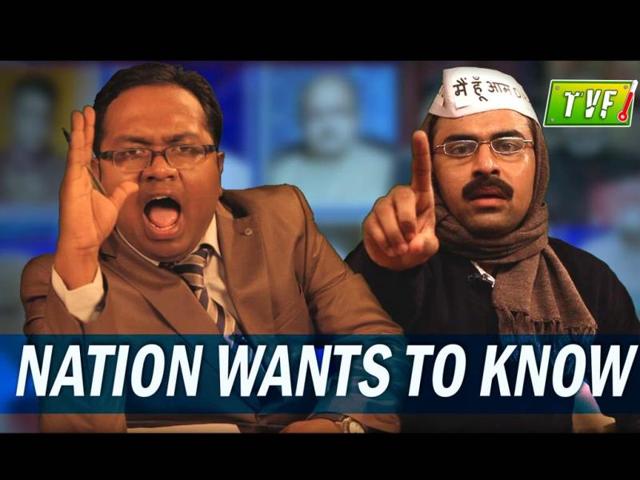 Biswajeet, who played the news anchor in the TVF video, said, "We have not received any individual response from the leaders on whom we made a spoof. But political leaders like Omar Abdullah shared our video on Twitter. That I think is a sign of being more tolerant."
Earlier, All India Bak*** (AIB) also made a spoof on Kejriwal and his antics ().
Tanmay Bhatt and his team certainly did not expect Arvind Kejriwal's party members to endorse the video. Yogender Yadav retweeted the video saying "I loved this take off on Arvind
bhai
! Hope you enjoy it too," that got the political party applause on social media.
The makers of the video also praised the AAP leader for being a sport. They tweeted: "@AllIndiaBakchod: @AapYogendra Thank you! You are a sport and we're fans! Keep going strong!"
The makers of the video earlier said that they "have received messages from several people from AAP and a bunch of senior leaders from the party have also retweeted the video".
While Kejriwal remains the favourite topic for spoof-makers, Modi and Gandhi too have their share of fan-base in the satire industry.
With political spoofs gaining popularity like never before, have we evolved as an audience? Are we more receptive and tolerant of jokes at our own cost?
Most of the celebs whom we approached seem to think so.
Ayushmann Khurranna told Hindustan Times , "Self deprecating humour is the new flavour. It's not just the audience but the people who have been targeted in these spoofs have become more receptive."
"We have not seen irreverence of this kind in the past. People evolve, humour does too," added the actor, whose latest Bollywood release was Bewakoofiyaan.
Actor and TV host (Savdhaan India) Sushant Singh, however, does not agree. "Thank the elections. This is the only time when the gunda (goons) fear the public. Tolerant? I doubt that," he said.
Actor Purab Kohli did not see it as a trend but was hopeful of the scenario. "Thankfully, yes. But it is still a small group. The trend is getting set and hopefully, with time and the spread of internet, that will expand. We have to learn to laugh at ourselves," said the actor whose film Jal released in theatres on April 4.
Actor-writer Piyush Mishra, meanwhile, believes this needs to percolate into mainstream too. "Except for Rajkumar Hirani, and to an extent, Anurag Kashyap, I do not see any filmmaker offering good satire in cinema," he said.
When asked about popular YouTube videos on political satire, the actor said, "I do not really follow YouTube videos but I have seen Bollywood Aam Admi (TVF video) and a few more. I feel they are doing a good job. Also, they do not have Censor Board cap which enables them to explore their creativity for good satire."